For its 2019-20 season, ISU Theatre planned six shows written by women, visits from 2019 Tony Award winners, a yearlong symposium series, a celebration of the 100th anniversary of women's suffrage and a commitment to a national "50/50 by 2020" initiative promoting gender equity in theatre. It was a "HERoic" undertaking.
According to the Dramatists Guild of America's 2016-17 season count, only 29% of plays produced in America are written by women. The percentage drops to 24% for plays produced in the Great Plains region, which includes Iowa.
ISU Theatre's "HERoic" season put the spotlight on this gender gap. Brad Dell, associate professor and director of ISU Theatre, said he is not aware of another theatre program that produced an entire season of women playwrights to coincide with the women's suffrage centennial.
"We are truly proud of this powerful season," Dell said. "In particular, it was an honor to bring back so many outstanding women alumnae as guest artist directors and designers. We were also overwhelmed by how the community embraced this season. Many community partners held "HERoic" events including Parks Library, Ames Public Library, Story Theater Company, Ames High Drama and more."
"HERoic" presented stories as diverse as the last surviving bee in Manhattan in "Climate Change Theatre Action: Lighting the Way" to a madcap trip through American history in "Chasing George Washington: A White House Adventure."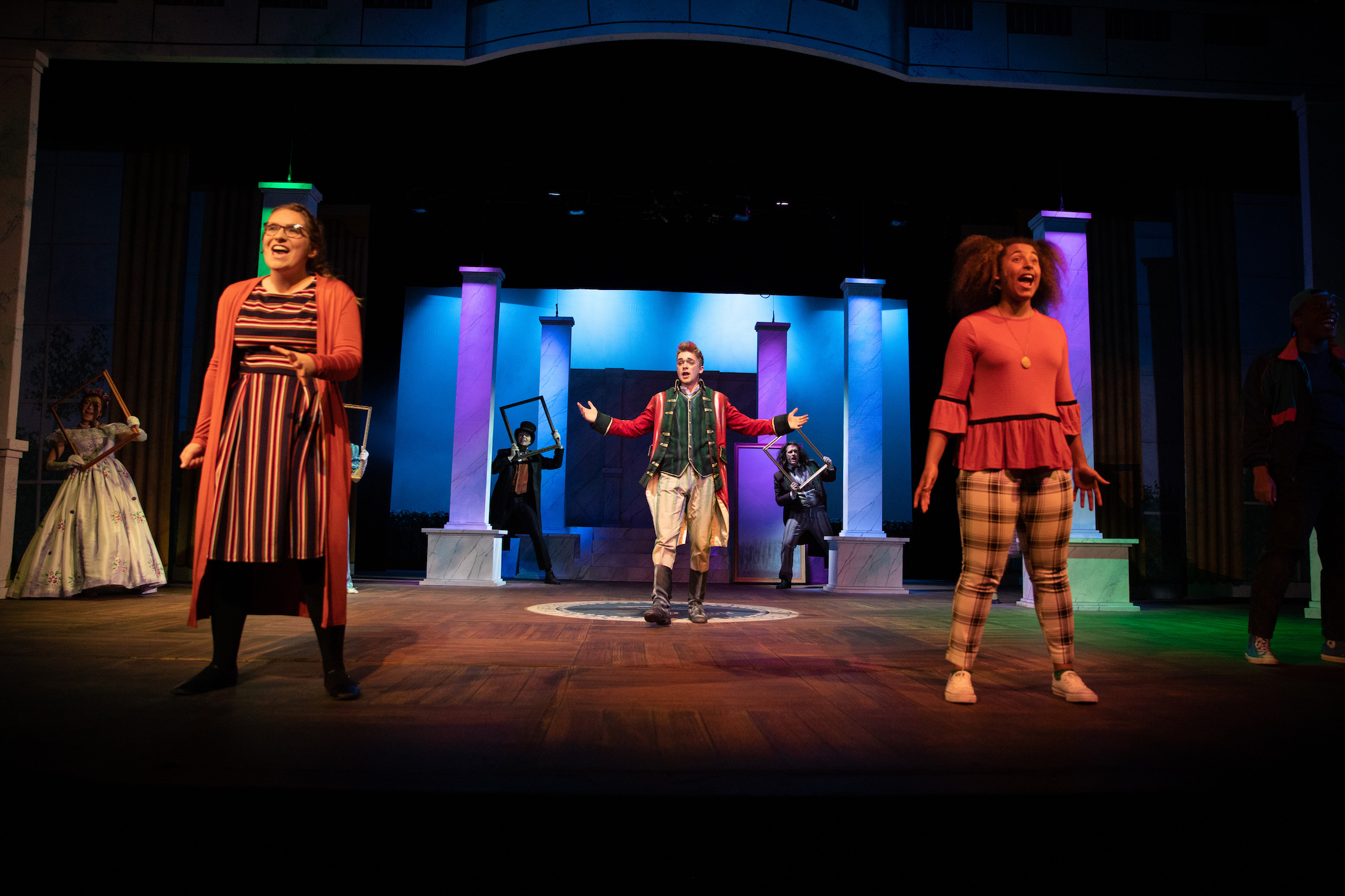 "The Wolves" even featured an all-female cast, who delivered a fierce, funny and tender portrayal of a teenage girls' soccer team transitioning from adolescence to maturity.
"More than ever, theatre is needed to help us all practice radical empathy. In these times of uncertainty, citizen artists can light the way and lead us to new horizons."
To accompany its season, ISU Theatre hosted a yearlong symposium series titled "HERoic: Gender Equity in the Arts," including a lecture by Rachel Hauck, winner of the 2019 Tony Award for Best Scenic Design of a Musical for "Hadestown."
"We're incredibly grateful to the many educators, community leaders, artists, athletes, researchers and activists who joined us for our symposium series," Dell said. "It was thrilling to continue these conversations of diversity, equity and inclusion beyond the stage and into the community."
Five recent Iowa State alumnae returned as guest artists to direct and design the "HERoic" season, including Eleanor Kahn ('09 performing arts, architecture), Kiah Kayser ('14 performing arts), Taylor Millar ('17 performing arts), Vivian Cook ('19 performing arts, French) and Olivia Griffith ('19 performing arts, music). ISU's music and dance programs also shared special performances throughout the year featuring music by women composers.
Season of Invitation
While final details of ISU Theatre's 2020-21 season are not yet announced, one thing is certain: It will be the most innovative season of theatre at Iowa State yet.
"Our 'Season of Invitation' will invite audiences to imagine and explore with us what theatre looks like in new environments," said Dell. "Our number one priority is engaging our students and continuing to provide incredible opportunities for student performers, designers and technicians. This season's bottom line will focus on fostering community capital rather than box office proceeds."
Dell said ISU Theatre is using a set of guiding principles to explore the unique challenges that COVID-19 presents for performing arts. Flexibility is one focus, he said.
"We are selecting productions that offer flexibility in their potential presentation," he said. "This could include any combination of live, live streamed, outdoor, recorded or other formats. Our production teams will be nimble and creative in responding to the circumstances of the moment."
As the show goes on – whether online, in-person or in ways yet unimagined – ISU Theatre's commitment to citizen artistry also continues. Equity, diversity, inclusion and representation will remain central to season planning decisions.
"More than ever, theatre is needed to help us all practice radical empathy," Dell said. "In these times of uncertainty, citizen artists can light the way and lead us to new horizons."