A few years ago, Michael Golemo, University Professor and director of bands at Iowa State, was flipping through a book listing the 15,000-plus performances of the John Philip Sousa Band when something caught his eye — a Nov. 11, 1920 concert performed in Ames at State Gym.
According to a review by the Ames Daily Tribune, "over 4,000 people" packed into the gym to hear the famed Sousa Band perform an Armistice Day program that was "eclectic and satisfying to all lovers of music." It was Sousa's only concert in Ames.
"When the Sousa Band came to town, the schools shut down, the businesses shut down. This was a once-in-a-lifetime opportunity to hear real classical music."
Last fall, the ISU Wind Ensemble honored that historic event with a 101st anniversary concert and tribute to Sousa on Veterans Day, Nov. 11, in State Gym. (Originally planned for the 100th anniversary, the concert was delayed one year due to the COVID-19 pandemic.)
"This was such a successful and historic concert, performing where the great John Philip Sousa performed exactly 101 years earlier," Golemo said. "The Wind Ensemble and our soloist, Lance LaDuke, performed brilliantly, and we had a terrific crowd. We were quite impressed with the acoustics in State Gym. And having the Cyclone Marching Band to assist on the final strain of 'Stars and Stripes Forever' provided a powerful finale. We're looking forward to doing this again in 101 years!"
Sousa and small towns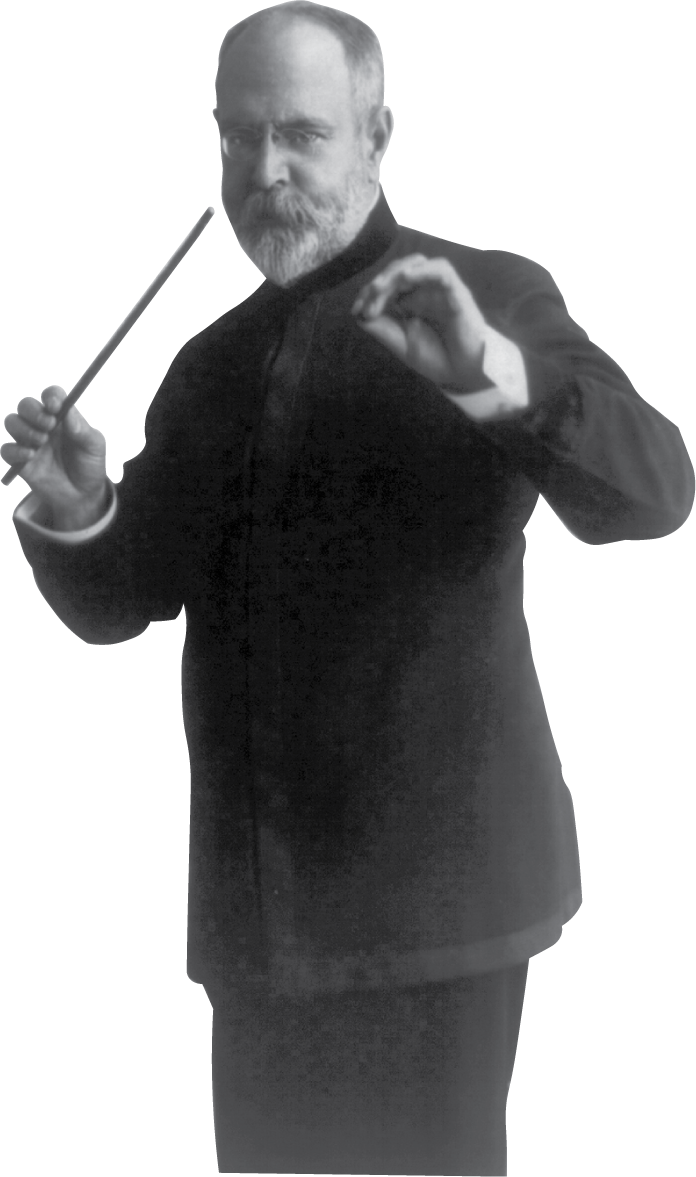 Known as "The March King," Sousa is best remembered for his marches, but what people don't often know, Golemo said, is that he brought classical music to small towns around the world. In a time before radios, records and phonographs became common household items, the Sousa Band crisscrossed the globe introducing audiences to the sounds of Wagner, Rossini and Verdi.
"When the Sousa Band came to town, the schools shut down, the businesses shut down," Golemo said. "This was a once-in-a-lifetime opportunity to hear real classical music."
A prolific composer and arranger, Sousa expanded the available repertoire for concert bands, which were still in their infancy at the turn of the 20th century, Golemo said. Sousa commissioned transcriptions of orchestra music and wrote original compositions for band, piano and vocal performance. He then fell in love with touring as conductor of "The President's Own" United States Marine Band. After 12 years in the role under five presidents, Sousa organized a civilian band and went on tour.
"He played in Africa, Europe, Asia and Australia," Golemo said. "He was playing classical overtures and music that hadn't even been performed by the Metropolitan Opera in New York, and he was playing it in small towns in Kansas and Iowa. He was known for bringing quality music all around."
An unforgettable experience
The ISU Wind Ensemble modeled their anniversary performance after a traditional Sousa concert, with marches as encores and a featured soloist. Musical selections included: "The Light Cavalry Overture" by Franz von Suppé; "O mio babbino caro," by Giacomo Puccini, with virtuoso euphonium soloist Lance LaDuke; and Sousa's own "The Stars and Stripes Forever." The concert recognized veterans and members of the U.S. Armed Forces and also included the unveiling of a historic plaque, sponsored by the John Philip Sousa Band Foundation, to honor the 1920 State Gym performance.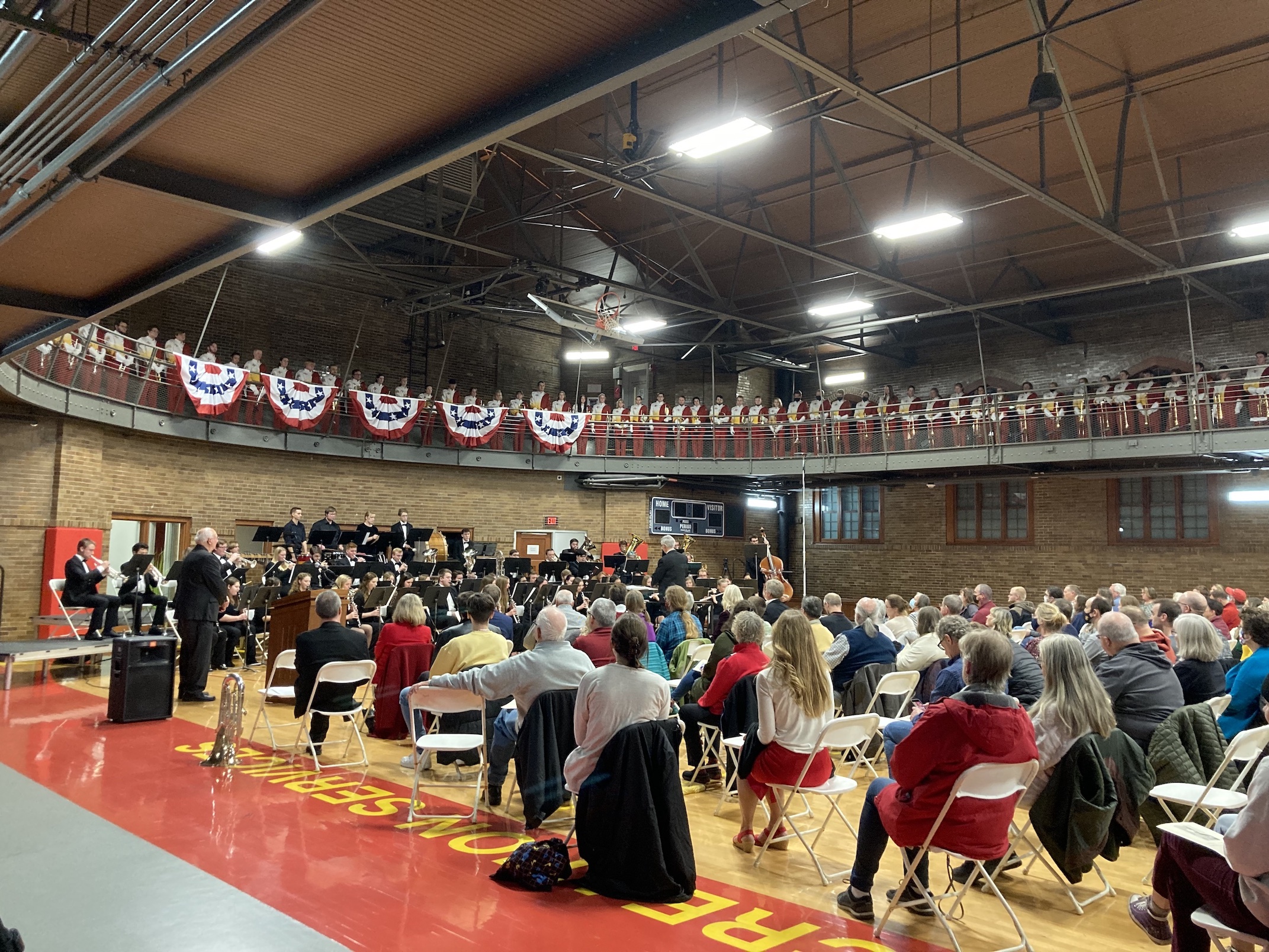 "Putting the Sousa concert together and performing it was an experience I know I will always remember."
Students immersed themselves in the Sousa Band's history to prepare for the special event.
"Leading up to the concert, Dr. Golemo had students reading facts about Sousa's life during rehearsals, which added to the preparation and performance experiences," said Caleb Burken, a junior in music. "Overall, this concert was truly an unforgettable experience."
"I loved being a part of the Sousa concert because I connected to a big part of our past as musicians and Iowa State students," said Lydia Lee, a sophomore in music and English. "John Philip Sousa is such a monumental figure in the history of band music, and it was a blast getting to learn more about him as an American composer and conductor. Putting the Sousa concert together and performing it was an experience I know I will always remember."