When Stephanie McClelland ('24 performing arts) was in high school, she found interest in managing stage productions, whether they were high school or elementary school shows. She always knew that she had a passion for theatre, but it wasn't until she came to Iowa State that she decided to pursue it as a career.
Now, she is a double major in performing arts with an emphasis in theatrical design and entrepreneurship. In her time at Iowa State, she has initiated rehearsals and lesson plans for ISU Theatre stage productions and interned around the country at a regional theatre and a national festival.
"I love being able to run around and solve problems. It's my favorite part," McClelland said. "Since sophomore year of high school, I've only been doing stage management."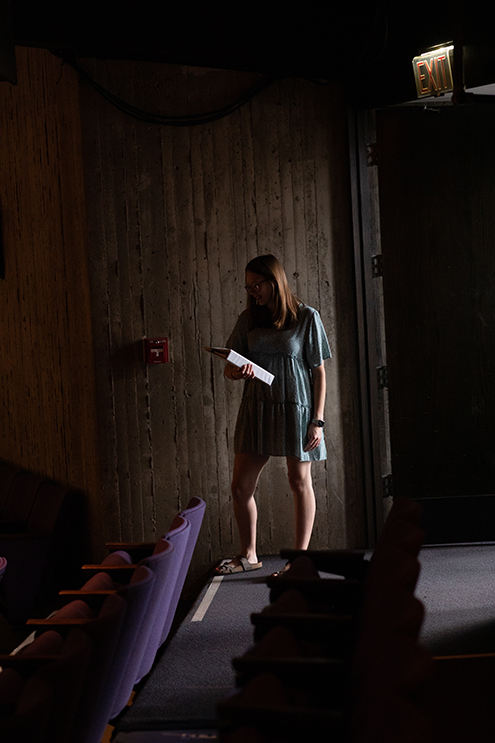 Learning from the professionals
From volunteer work to a paid internship experience in West Virginia, McClelland is preparing for her future after Iowa State.
"The summer after freshman year, I worked at CLIMB Theater in St. Paul, Minnesota. I did two days a week there and it was unpaid, but it was so fun. It was very hands on and that's where I got most of my stage management skills from," McClelland said.
As a production assistant intern, she had the opportunity to assist the director with a variety of tasks, such as creating ideas, preparing rehearsal schedules, and attending production meetings.
She also gained new relationships within the company and learned directly from the production manager of CLIMB Theatre, Sam Diekman.
"I really got to bond with my mentor. It was nice to have time with her one-on-one. Because she was a professional stage manager herself, learning from her was important," McClelland said.
The summer following her sophomore year, McClelland interned for the Contemporary American Theater Festival in West Virginia. Not only did she gain more skills related to stage management, but she also learned hospitality skills by helping others on the festival team.
"In West Virginia, I loved the people. I enjoyed meeting new people and networking with others. That was my first time truly being away from home and having a job that was paid," McClelland said.
In this role, she helped with onboarding, set up housing, coordinated meals, and assisted with artist travel.
"If anyone needed help of any kind, we were there," McClelland said.
Getting comfortable
McClelland has worked on a variety of shows during her time at Iowa State. She served as production stage manager in both "Night of the Living Dead! The Musical!" and the "One-Act Play Festival." With the support of the directors and her faculty mentors, she found it easier to push through obstacles that arose.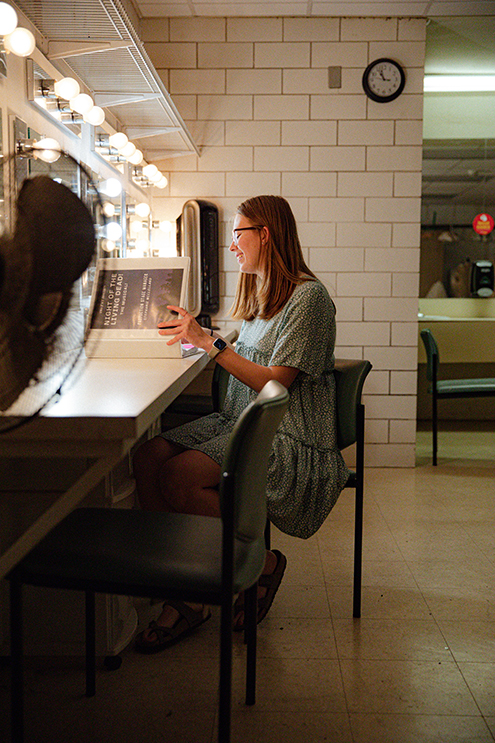 When McClelland was working on the "One-Act Play Festival" stage production at Iowa State, she coordinated and rehearsed nine different shows. With four rehearsals in the evening in two different locations, she found herself working 40 to 70 hours per week.
"We became a really tight cast. We get so many bonding opportunities and I think that's why we all work together so well," McClelland said.
While McClelland is a huge part of stage productions within the Department of Music and Theatre, she also participates in the LAS Innovation and Entrepreneurship (I+E) Academy. She is the co-founder and president of The Vibe, a mental wellness club on campus. While she was the president, her leadership abilities grew as she learned how to address challenges among the executive team.
"I had to learn how to adapt to each person's learning style and also how to take a step back and manage from a bird's eye view," McClelland said. "This was hard as I felt that the project was slipping through my fingers, but I learned that sometimes you have to let that happen."
McClelland realized that sometimes things don't go the way you want all of the time. Putting in the effort and hard work is what matters in the end.
Hard work pays off
McClelland's hard work has not gone unnoticed. She has received a few different awards through the Kennedy Center American College Theatre Festival (KCACTF). She's received honorable mentions at the 2022 KCACTF Region 5 National Stage Management Fellowship, and a Certificate of Merit for Stage Management in "Night of the Living Dead! The Musical!" and the "One-Act Play Festival." McClelland is grateful for her professors and faculty mentors for guiding her and providing her with all the resources she needs to succeed.
"I feel like I have a second family here within the faculty," McClelland said. "Personally, academically, and career-wise, I've had many conversations with them. I'm comfortable enough to go into their offices to say 'Hello.' Sometimes you just need that in a person."