Eleanor Kahn can design everything from the smallest objects to city art installations. But her best work might be designing her own career, in exactly the way she imagined it.
In 2018, Kahn ('08 architecture, performing arts) launched her own full-time freelance design career, after years of juggling her Chicago day job with evening theatre gigs.
"I could have waited five years, but then I'd have wasted five years not working for myself," she said. "Why start later when I could start right now?"
In the last year, Kahn has landed amazing gigs like a public art installation in Chicago's Millennium Park, designing details for artist Hebru Brantley's "Nevermore Park" exhibit and prop design for Dolly Parton's "Smoky Mountain Christmas Carol."
"When I went freelance, I didn't know how it would go," Kahn said. "I knew I wanted to move horizontally rather than vertically. I wasn't looking to climb the scenic design ladder. I love doing so many different types of design. I didn't anticipate that happening all so quickly and without effort on my part, which is really magical."
Setting the stage
Scenic design was a surprise career choice for Kahn. After applying to Iowa State as a double major in biology and geology, she made a last-minute switch to architecture and signed up for a freshman Honors Program scenic design project with Associate Professor of Theatre Rob Sunderman.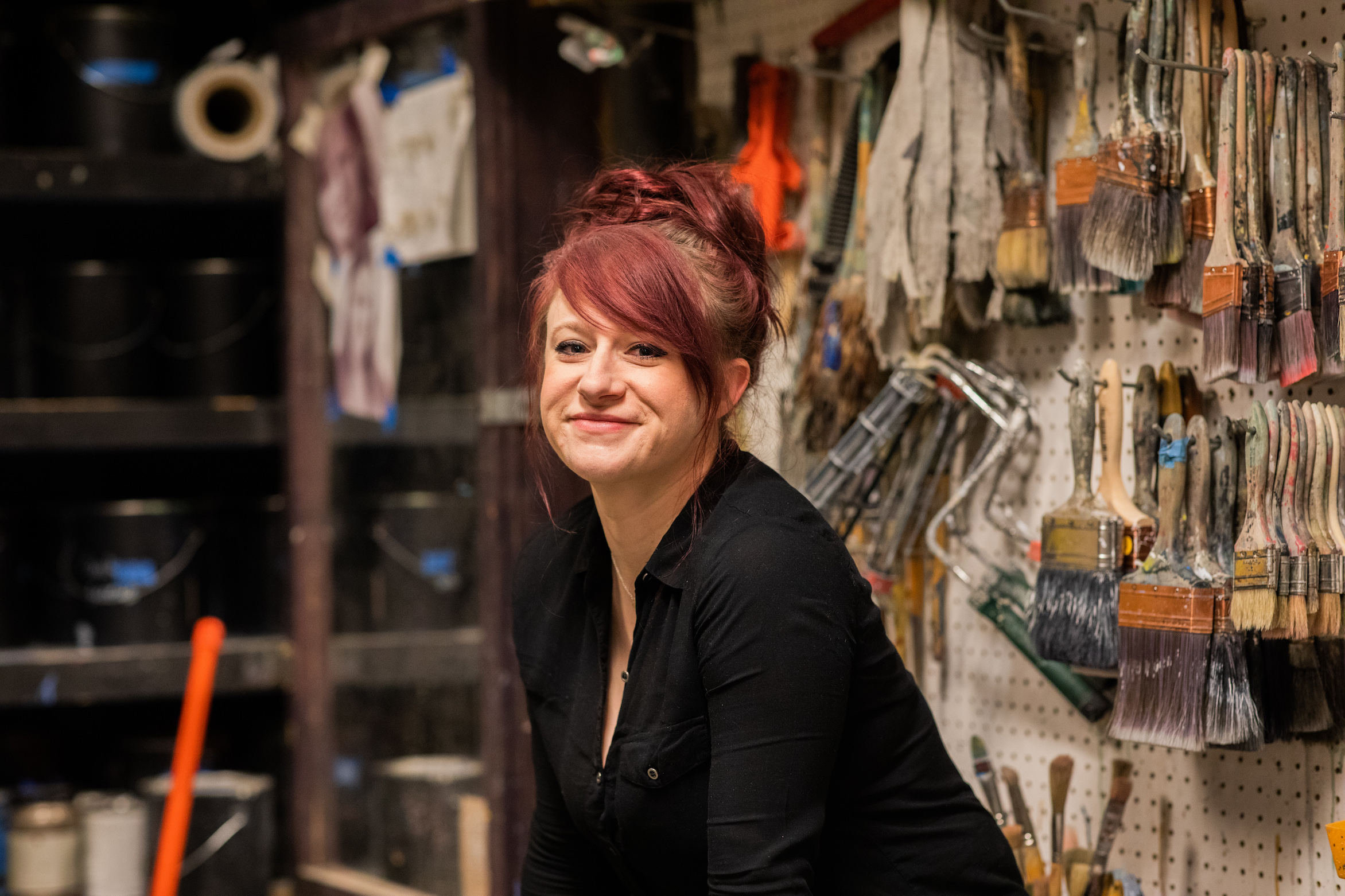 "That was the first time I learned that scenic design could be a thing a person does for a living," Kahn said.
Kimberly Zarecor, professor of architecture, helped Kahn realize scenic design was more her style than memorizing building codes, and she added a second major in performing arts.
"In theatre, you build spaces and tell stories in ways that tend to happen more quickly than architecture," Kahn said.
Coloring outside the lines
After graduating from Iowa State and earning an MFA in scenic design from Boston University, Kahn started to think intentionally about her career direction.
"My graduate professor was the first person who made me question 'Why theatre? Why is it an important art form? How can you help push it forward?'"
Kahn is changing it by coloring outside the lines of a traditional theatre career. With an entrepreneurial spirit, she easily pivots between designing sets and spaces, details, objects, events and installations.
"I'll always do the best job I can. I don't want to be floating on a little cloud. I always want to be working hard and striving for the next thing."
In summer 2019, Kahn received an invitation to apply for a public art commission celebrating the city of Chicago's "2019 Year of Chicago Theatre." Being asked to apply was an achievement in itself—then her design was selected. Her exhibit "Color Play" was installed in downtown Chicago's Millennium Park next to the famous Cloud Gate, or "The Bean."
"I love how it turned out," she said. "It was wonderful to see the public's response, and I'm hoping there is a future to sharing the design again."
Designing a universe
If Kahn's Millennium Park installation was about big splashy color, "Nevermore Park" was about the tiniest details.
In 2019, Kahn was hired to design the details of an immersive, interactive installation in Chicago. Based on artist Hebru Brantley's "Nevermore" universe, the 6,000-square-foot exhibit explores the world of Brantley's superheroes Flyboy and Lil Mama, who are inspired by Tuskegee Airmen.
Using designer renderings and a dramaturgy packet, Kahn created object stories and "aesthetically dope" details for visitors using everything from retro TVs to a rocket-themed body skateboard.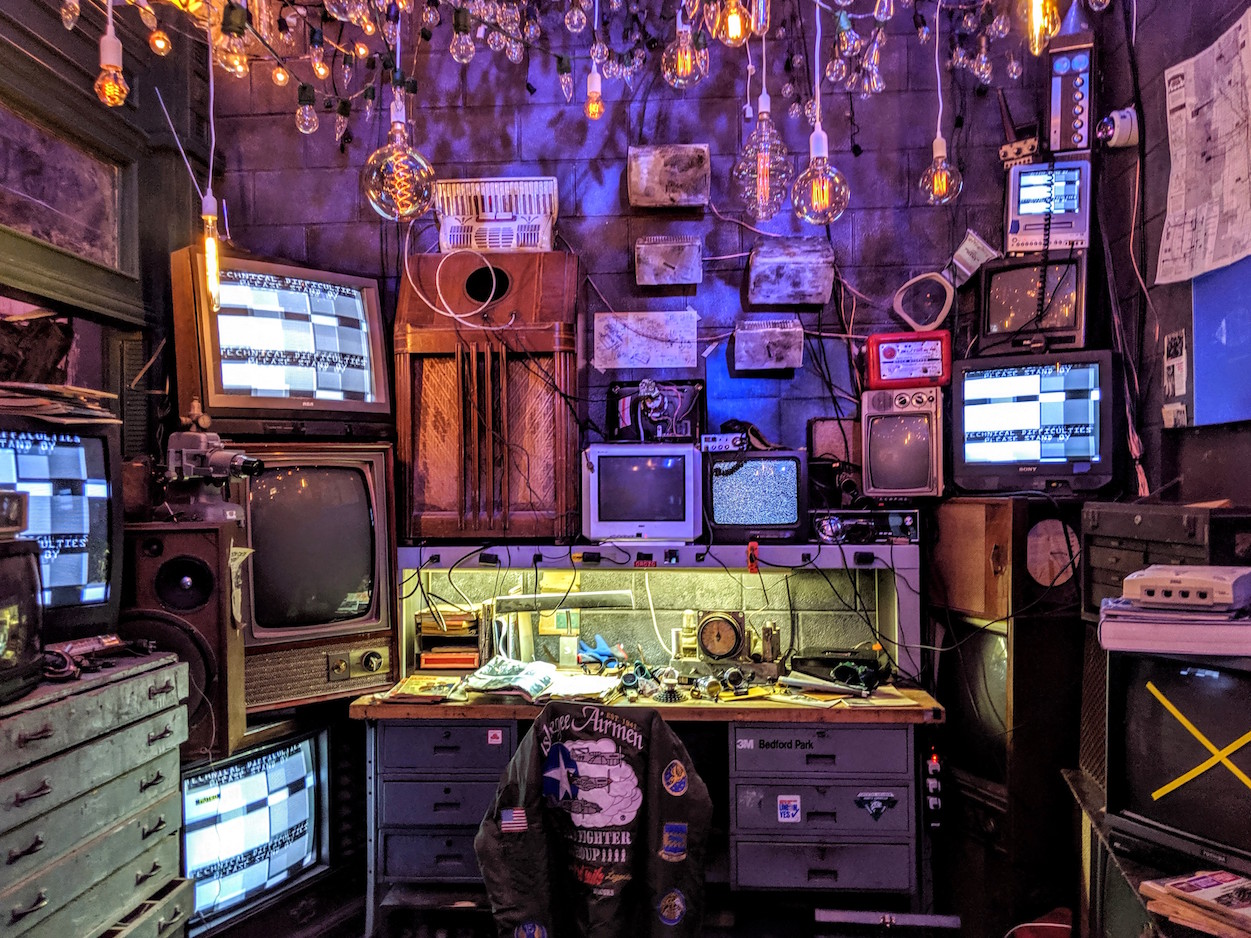 "There's a whole other element of human interaction," she said. "You can get away with a lot in theatre, but you can't get away with a lot when you are standing in front of it."
The "Nevermore" team also gave her a new title: details designer.
"Props doesn't often get treated as its own design department, and I've been working to change that in the theatre community," she said. "Details designer is more encompassing of what I do, with a higher level of importance. The way they approached the process was genuinely collaborative. I felt like an equal in the room."
Dolly-worthy details
Last October, Kahn was honored at Iowa State with the 2019 Outstanding Theatre Alumni Award. While in Ames, she got a text from a designer friend. Dolly Parton's "Smoky Mountain Christmas Carol," a brand-new musical set in a general store, needed set dressing and props for its opening in Boston—in four weeks.
Kahn raced to put in a bid, and three weeks later, she was driving a 12-foot truck to Boston crammed with thousands of dollars of eBay finds, as well as her own props, like recreated 1936 Sears Christmas catalogs.
"The audience may not notice that level of specificity, but those details help ground the actor in their role and make the performance that much stronger," she said.
How does one find "dramaturgically awesome stuff," as Kahn puts it? She scans sources like flea markets, antique malls, Craigslist and eBay.
"It's a harder job than anyone knows," Kahn said. "You need a sense of what you're looking for while being open to the possibilities and aesthetics. The job isn't to find a couch. Your job is to know the world and understand who and what lives in it."
Creating moments
While Kahn's recent high-profile projects have focused on details, she continues to do scenic design. She recently worked with Cards Against Humanity on the Chicago Board Game Café, and she designed the space for "The Fly Honey Show," a late-night Chicago show celebrating body positivity and identity.
"The space for that show starts as a big black box," Kahn said. "I get to figure out what everything looks like and shape the relationship between the audience and performer – where the lines are drawn strongly and where they're non-existent. The space hugely affects the experience, and you don't know how it will work until the show opens. I was honored to be part of their incredibly talented team."
In February, Kahn returned to campus as ISU Theatre's guest scenic designer for "The Wolves," designing a surrealistic soccer field for a play about a high school girls' soccer team.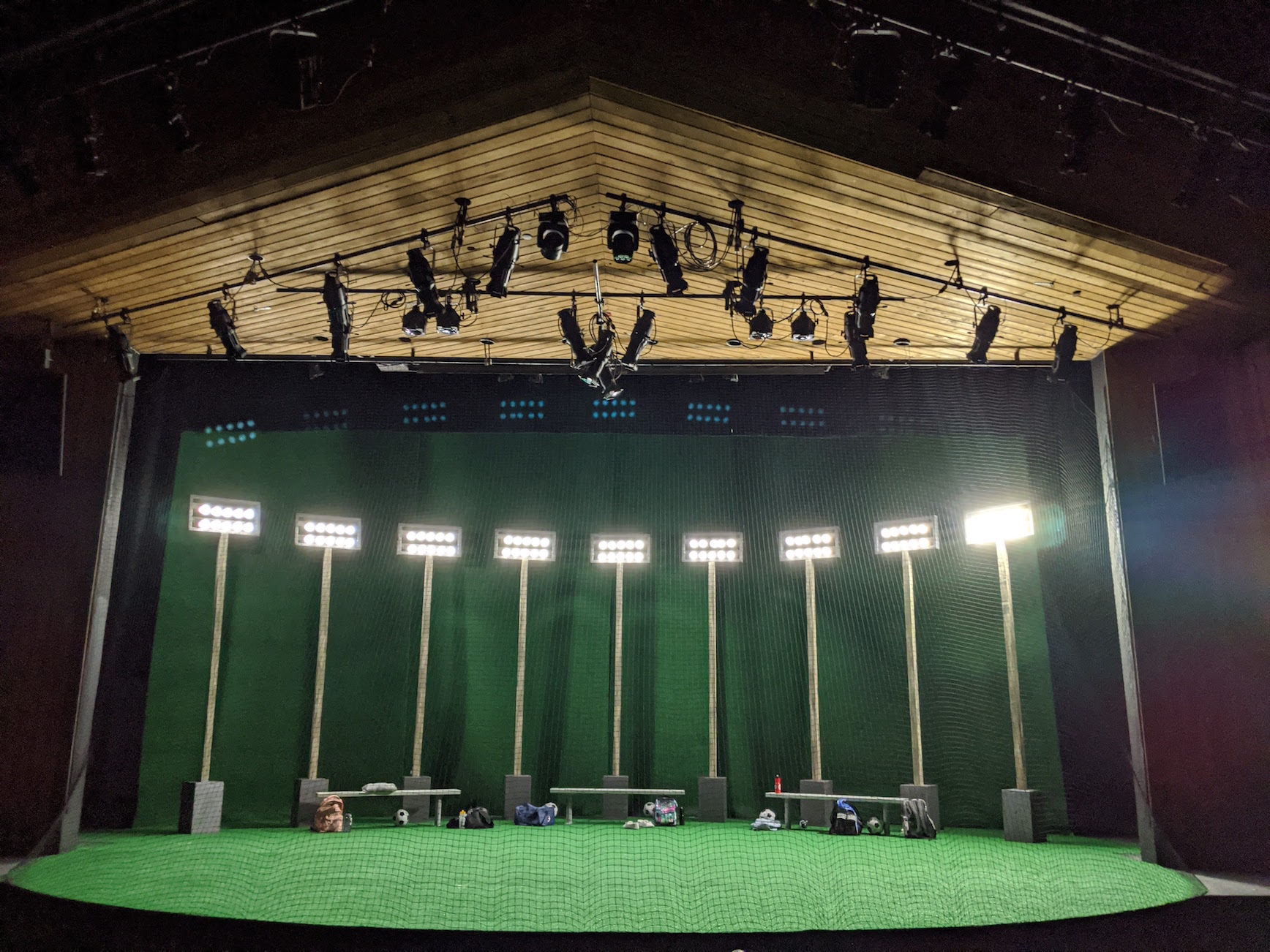 "Getting to work in the theatre where I started was a warm and meaningful experience," Kahn said. "I loved seeing the new facilities, technology and increased diversity in the student body. It was a great homecoming."
As the arts adapt to new environments this year, innovators like Kahn help lead the way.
"I'll always do the best job I can," Kahn said. "I don't want to be floating on a little cloud. I always want to be working hard and striving for the next thing."