A reviewer writing for Opera Today described Wayne Tigges as "An imposing physicality housing a big, pointed voice that rang out in the house as he blustered, boasted and bellowed with ample reserves of power."
Tigges ('95 music) is no stranger to positive reviews. He's garnered high praise from The New York Times, The San Francisco Examiner and numerous theatre-focused publications.
His booming bass-baritone voice has filled the world's most prestigious opera houses, from The Metropolitan Opera in New York City to the San Francisco Opera House. Tigges has traversed five continents, entertaining audiences in Europe, Australia, Asia, South America and North America.
"I've been living an artist's dream during the past 15 years," Tigges said. "It's wonderful to make a living by singing for thousands of people all over the world."
Showcasing a deep range of artistic versatility and raw talent, Tigges has performed 82 roles. He's played title characters in countless productions that include: "Le Nozze di Figaro," "Don Giovanni," "Falstaff " and "The Flying Dutchman."
Tigges can alter his voice with chameleon-like adaptability. Depending on the demands of the role, he can belt out a low bass, or a high baritone.
He's a master of foreign accents, quirky voice inflections and deft at disappearing into each character. He's played a colorful roster of characters—from Judge Turpin, the violent antagonist in "Sweeney Todd," to John Proctor, the pious, salt-of-the-Earth farmer in "The Crucible." Several times, he's been cast as Owen Hart, an explosive and distraught father whose child was murdered in "Dead Man Walking."
"Iowa State was the perfect school to help my voice blossom into what it could be."
"You get to explore parts of yourself that others keep hidden," Tigges said. "I get into character and it just switches on."
Tigges is well known in the tight-knit community of professional opera singers. Directors have hired him on-site after traveling from Vienna and London to hear him sing. His busy agent brokers a steady stream of job offers. Because most roles arrive at his doorstep, auditions are a relic from the past.
"I'm lucky," Tigges said. "The majority of my work comes from directors who contact my agent and request me for a specific part."
Tigges has come a long way since those first auditions in the auditorium of Simon Estes Music Hall.
'I found my voice'
Deciding to be a music major is not unusual. What is unusual is deciding to become a music major while attending ISU orientation—in the College of Business.
"Singing was always a big part of my life," Tigges said. "After learning about business majors, I knew exactly where I needed to be. I left orientation and walked over to Music Hall."
In a flash of serendipity, Tigges ran into Bob Mollison, who was the choral director at the time. After expressing his interest in music, Mollison invited Tigges to sing in the choral room. The chance encounter ended on a high note.
"After hearing me sing, Bob Mollison said to me, 'You realize that you belong at Juilliard, right? But we'll definitely be happy to take you,'" Tigges said.
Tigges quickly bonded with two mentors who would shape his future—Donald Simonson, Morrill Professor and current department chair, and Janet Alcorn, Emeritus Iowa State associate professor of voice and former director of ISU Opera Studio.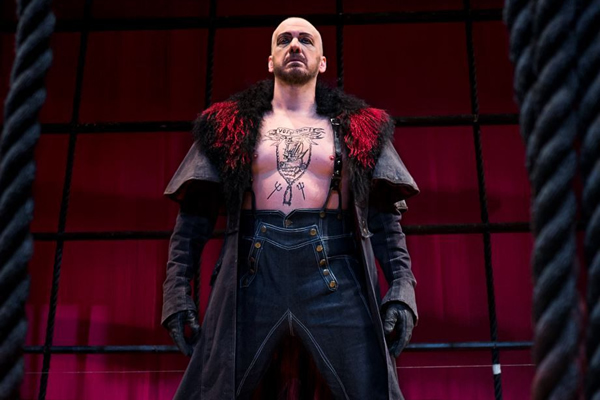 "When we first heard Wayne sing, we were blown away by his talent and his voice, which is a wonderful gift," said Simonson. "He arrived at Iowa State with an incredible work ethic and a sense of inquisitiveness. He always wanted another piece of music or another opera to study and ingest."
Tigges describes Simonson's technical expertise and Alcorn's theatrical skills as the perfect blend of training, instruction and guidance.
"Iowa State gave me the tools, faculty and latitude to explore my voice. I was still finding my voice when I began my education," Tigges said. "This was the perfect school to help my voice blossom into what it could be."
Lead performances in "Pirates of Penzance" and "The Marriage of Figaro" unleashed Tigges' robust vocal range. Although he'd been singing since childhood, his undergraduate years provided a space to discover his "opera voice."
Musical roots
Tigges grew up in a home filled with three-part harmonies and the tinkling of piano keys. His father sang in a barbershop quartet. The youngest of 10 children, Tigges and his siblings sang in multiple choirs.
"I definitely developed an ear for harmonies by listening to my father's barbershop quartet," Tigges said. "Although my siblings went on to study business or computer science, I never stopped singing."
Tigges earned his Master's degree at the Cincinnati Conservatory of Music and quickly gained acceptance into a Young Artist Program through the Lyric Opera House of Chicago.
Young Artist Programs are highly competitive training grounds for opera singers who show talent and promise. Spots are extremely limited. Earning one usually requires an arduous audition process. After the director of the Chicago Lyric Opera Program heard Tigges sing at a vocal competition, Tigges skipped the bulk of the auditions and was fast-tracked into the Chicago program.
"I was like a kid in a candy store, taking master classes with my heroes, including Luciano Pavorotti, Placido Domingo and Renée Flemming," he said. "The Chicago program allowed me to share the stage with the world's best opera singers and learn from their expertise.
"It also gave me the big break that changed my career," he said. Tigges was watching a performance of "Le Nozze di Figaro" from the audience. He was the understudy for the performer playing the title role on stage. The headliner suddenly began having problems with his voice.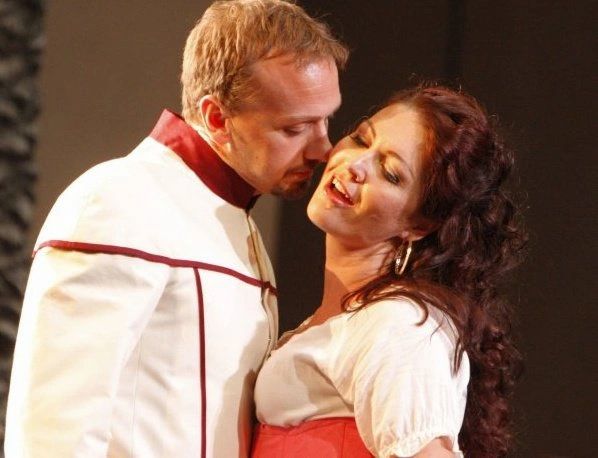 "The usher abruptly came into my row and said, 'Mr Tigges, we're going to need you to go on stage and immediately perform acts three and four,'" recounted Tigges. "I remember the entire audience gasping after hearing what the usher said to me."
Tigges rushed backstage, got into costume and make up and quickly began warming up. "They threw me in and it was basically sink or swim," he said. "I was shaking from both fear and excitement."
Tigges wowed the audience of 4,000. After securing positive reviews and attention from numerous international opera houses, the Chicago director cast Tigges in the 12 remaining shows. He would go on to reprise the role at opera houses in Japan, Austria and San Francisco.
"Wayne was fully prepared to take advantage of that opportunity and every other opportunity that has come his way," Simonson said. "It took incredible talent to quickly transform from sitting audience member to a commanding performer on that stage."
Refusing to take a 'rest'
Tigges has since devoted a great deal of time training and encouraging other new artists. He's developed and taught master classes for aspiring opera singers who want to learn from seasoned performers.
"I've held clinics in Chicago, Denver, Austin, New York City and many other cities," Tigges said. "I enjoy teaching and passing on techniques that help the next generation of performers."
As the world of live theater faces temporary closures and cancellations due to COVID-19, he remains optimistic and open to new possibilities.
"I could see myself venturing into academia and teaching, or possibly fundraising for the arts," Tigges said. "Although there's a great deal of uncertainty right now, we'll get through it. The whole world will get through it and I can't wait to see what is next."