The snow crunched under Holly Prier's feet as she trudged through the parking lot toward the Emmetsburg High School doors. It was February 2016, just a few days after a heavy snowfall covered northwest Iowa under a blanket of white.
Prier ('15 music) had recently earned her degree in music education from Iowa State and was in town to interview for a band director position. A first-time visitor to Emmetsburg, Prier recalled the piles of fresh snow that lined sidewalks, drifted up residential streets and buried downtown walkways that led to quaint coffee houses and gift shops.
"Emmetsburg schools had two consecutive snow days before the day of my job interview," said Prier. "It was unbelievable. There was snow everywhere."
Despite the frosty introduction to Emmetsburg, Prier received a warm reception from school administrators during the job interview. As the interview progressed, Prier could feel her previously carved out career plans melting away.
"I had always envisioned myself teaching in Ames or Des Moines," she said. "However, I was quickly charmed by Emmetsburg, impressed with the supportive administration and so excited about the possibilities of this job, which entailed rebuilding the band program."
Prier left the interview feeling so excited about the job that she drove around Emmetsburg, envisioning herself teaching and living in the community. Located in Palo Alto County in the northwest quadrant of Iowa, Emmetsburg is home to about 4,000 residents.
"I enjoyed meeting the staff and learning about this opportunity, so much so, that I called my father during the drive home to tell him about the experience and to sort out my emotions," she said. "I had barely left the county when another call came through my cell phone."
The incoming call was the Emmetsburg Middle School principal who told Prier, 'We'd like to offer you the job.' Michael Golemo, professor of music and director of bands at Iowa State, agrees that Prier was a sound choice for the position.
"Holly has quickly emerged as a leader in instrumental music education in her region," said Golemo. "I fully expect her to quickly become a leader in the state of Iowa."
Marching toward a leadership role
The experience, education and leadership skills that Prier brought to the table during her job interview in Emmetsburg began to take shape in the fall of 2011, during the first weeks of her freshman year at Iowa State.
Prier arrived at Iowa State confident that she wanted to major in education and work with students. However, she was less certain about joining the Iowa State University Cyclone Football 'Varsity' Marching Band.
"Initially, I questioned if my small-town experiences playing flute in the North Linn High School marching band would measure up to ISU marching band standards," she said.
Prier's entire high school marching band had 22 members. The notion of joining a 350-person marching band that would play in front of 60,000 screaming fans at Jack Trice Stadium felt a bit overwhelming. Prier set aside her trepidation and joined the ISU marching band during the fall of her freshman year as one of 22 piccolo players.
"I tell my current students this, because what I learned is so important. It doesn't matter if you come from a small town. It's more important to arrive and be coachable, teachable and willing to adapt."
With her previous doubts in the rear-view mirror, Prier thrived in marching band and was quickly named a guide for the piccolo section. Guides motivate and lead their fellow section members while creating a positive, fun atmosphere within the section. Her outgoing personality and organizational skills were a perfect fit for the leadership role.
"It doesn't matter if you come from a small town. It's more important to be coachable, teachable and willing to adapt."
After enjoying a taste of band leadership, Prier applied for drum major at the end of her sophomore year. Drum majors have important responsibilities within the Cyclone marching band. They lead and conduct band members during performances, play a key role in organizing band practices and they also teach new band members how to march, among other responsibilities. Only three are selected each year; and they are viewed as vital mentors and leaders by fellow bandmates and music faculty members.
"I was very humbled and so excited to be chosen as an ISU drum major," said Prier.
"Fall in love with the process and the process will love you back"
Prier was a drum major during her junior and senior years, when she also played the piccolo in the pep band during the basketball games. She describes these chapters of her ISU experience as a pivotal time in which she honed her leadership skills, forged strong friendships and created cherished memories.
One of her most memorable marching band moments happened during her senior year at the Iowa vs. Iowa State football game. Iowa State clinched the win at Kinnick Stadium during the last seconds, with a field goal.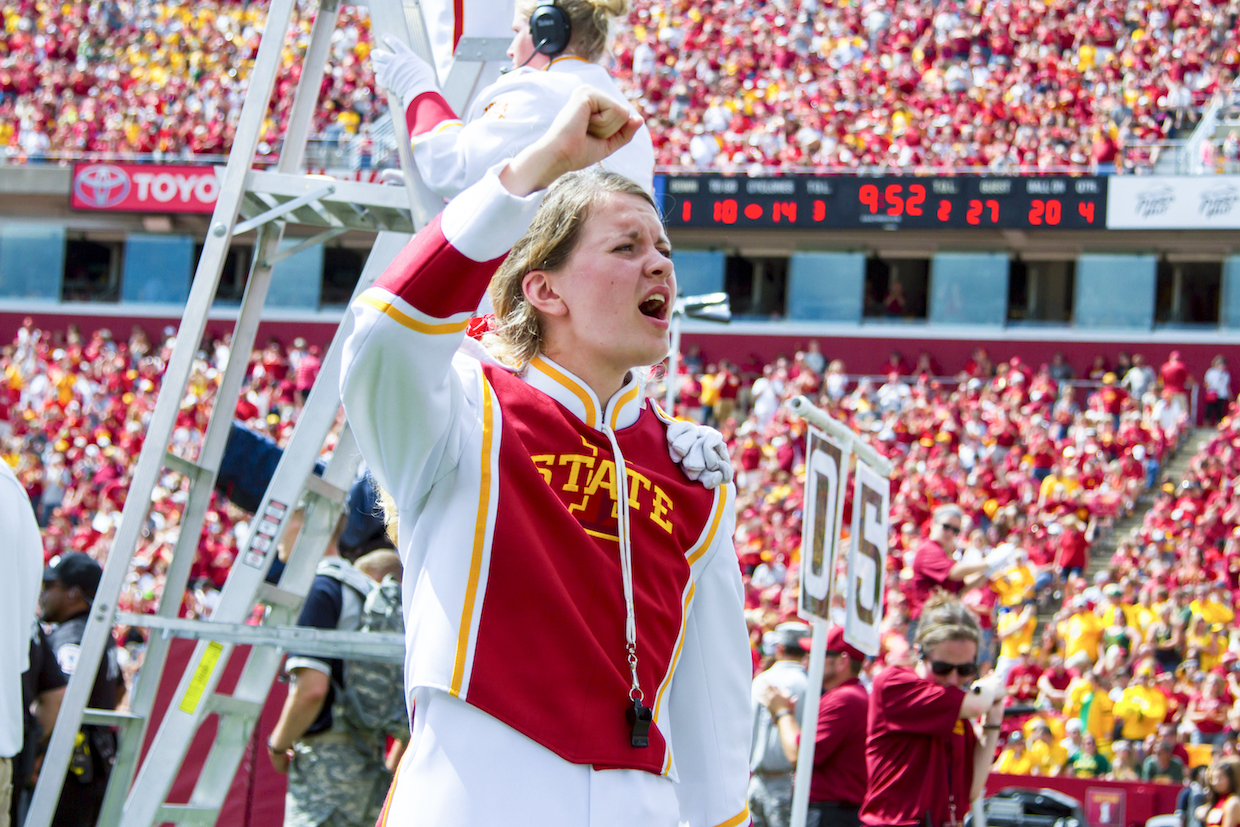 "I was standing on a ladder conducting the band, so I had such a great vantage point," said Prier. "We played the fight song seven times in a row that day. The band director kept signaling to keep it going. I remember noticing the freshmen who were new to the band and still figuring it all out, as well as older band members. It was a moment of pure joy for everyone that I will never forget."
"I fell in love with the process of showing up and doing the work every day."
Prier gleaned life lessons and wisdom during her time at Iowa State that continue to influence her today.
"Matt Campbell, the ISU football coach is famous for saying, 'If you fall in love with the process, the process will love you back,'" she said. "That is exactly what happened in marching band. I fell in love with the process of showing up and doing the work every day, and because of that I enjoyed so many experiences."
Prier has made a point to pass on this philosophy to her own marching band students. "I encourage my students to love the process and to focus on the growth day in and day out and to embrace the work it takes to create music."
Banding together
The heat was sweltering and the skies were sunny during Prier's first days as the Emmetsburg band director—a stark contrast from the snowy conditions that she endured during her job interview.
Prier organized a band camp that took place in August, as a way to introduce herself to her 24 band students and to get to know them while learning about their skills and musicianship.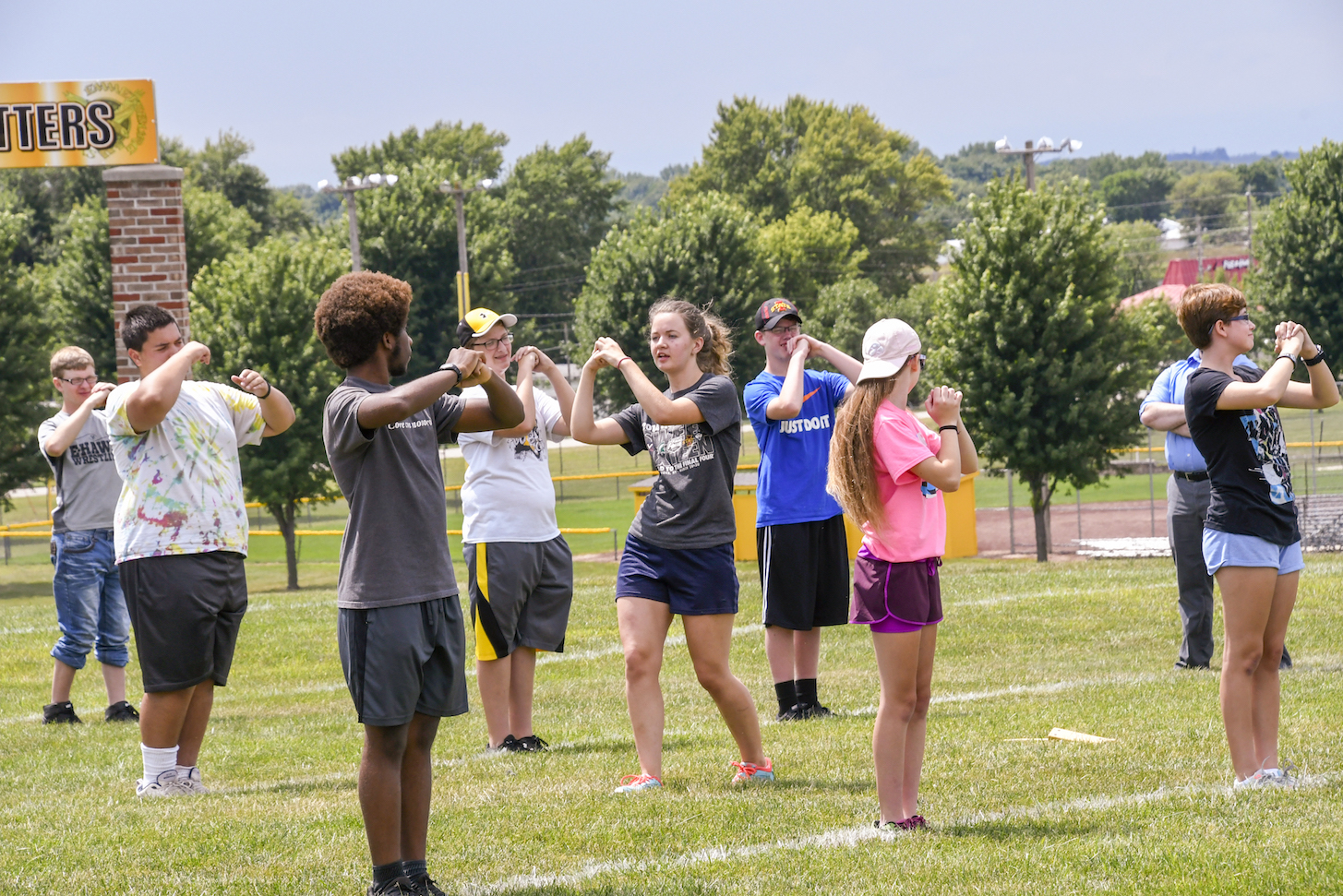 "We were all meeting each other for the first time," said Prier. "I was just beginning my career and starting my first job, and the students were adjusting to a new band director. We learned together."
Prier wears many hats as the band director for Emmetsburg Community Schools. In addition to directing the high school and junior high school marching bands, she also leads concert and jazz bands at both schools. During late winter, Prier carves out time to prepare students for spring solos and ensembles and leads the pep band that plays during Emmetsburg basketball games.
Additionally, she prepares her students for competitions, such as the Iowa Lakes Jazz Band Contest in Estherville, the High School Jazz Band Festival at Spirit Lake High School and District Jazz Contest in Fort Dodge, among others. These competitions allow Prier's students to compete against local bands and to receive valuable feedback from accomplished jazz musicians who critique their skills.
Even though the contests involve trophies and placements, Prier is quick to note that awards are not the goal.
"I tell my kids that our growth and the lessons that we learn as we prepare to compete are most important," said Prier.
"During the last few years, we have improved our placements, and I'm most excited about that, not because of the numbers, but because it means the kids are learning and growing and I'm learning to become a better teacher too."
Life lessons through music lessons
Alex Lowman, a sophomore at Emmetsburg High School who plays the tuba, said "Miss Prier is always teaching me about life skills. We're constantly talking about how we can learn from our experiences in band. She always expects the best of us and I've learned so much from her."
As Prier prepares band members for solo and ensemble performances, some of students experience the typical concerns and fears that accompany stage performances in front of large audiences. Prier is always quick with kind advice, thoughtful insights and important lessons.
"They want to know what happens if they bomb their solo and I tell them 'your mom will still love you and I will still want you in band and you will learn from it,'" she said.
"I help them work through their emotions and I tell them that someday they will have a job interview or they will have to present in front of someone at work, and this is why we do this - to teach them life skills."
"I've learned so much at percussion camp. Miss Prier has been so great at helping me achieve my goals."
Matt Hill, a senior who plays percussion, plans to attend Iowa State this fall. He will audition for the ISU marching band, with his sights set on making the ISU drum line. In preparation, Prier has taken Hill and other students to summer percussion camp at Iowa State to improve their skills, expose them to ISU's band program and allow them to learn from the camp clinicians who provide helpful feedback and technical advice.
"I've learned so much at percussion camp and I've gained so much insight that helps me better myself," said Hill. "My father played the sousaphone in the ISU marching band and I hope to carry on that tradition. Miss Prier has been so great at helping me achieve my goals."
Hill added that Prier's advice about her own ISU experiences increased his confidence.
"Miss Prier has helped us to realize that being from a small school isn't a bad thing."
"I have told them, 'I did it, and I was from a small school and you can do it, too,'" said Prier.
ISU remains instrumental in her success
Prier describes her ISU academic experiences as "first rate" and "critical in helping me to prepare for a career as a band director."
"Every teacher I had was top notch," said Prier. "My music classes were taught by talented, accomplished professors, many with whom I still maintain contact."
She often reconnects with Sonja Giles, associate professor of music, to ask for advice or to run ideas by her.
"Dr. Giles is the most positive person I know and she cares so much about her students. She has greatly influenced how I instruct my own students," said Prier.
Likewise, Giles expresses an admiration for Prier's work ethic, character and engaging teaching style.
"Holly is a dynamic person who draws students, like a magnet, to music and to herself," said Giles. "She loves teaching, music and people and she is the best kind of teacher. She is the 'real deal.'"
Prier has traveled with several of her middle school students to Iowa State to participate in the band clinics that are spearheaded by Golemo. In turn, he has traveled to Emmetsburg to offer his advice, experience and professional analysis of her students' musical performances.
"Holly is a dynamic person who draws students, like a magnet, to music and to herself. She loves teaching, music and people. She is the 'real deal.'"
"Holly is taking advantage of opportunities like festivals, competitions and guest clinicians," said Golemo. "These experiences provide her students with the best possible band experience while enriching their knowledge and skills."
"I can reach out to my professors and they're always willing to help, answer questions or provide insight," said Prier."Being a graduate of Iowa State means that there's always talented, good people to ask for help and those professors are there for you even after you graduate."
Prier enjoys bringing her students to the Iowa State campus where she attended classes, studied music education and learned important life lessons on and off the marching band field.
"I love introducing my students to Iowa State," she said. "It's so wonderful to see some of them fall in love with the campus and to learn, as I learned, that succeeding at Iowa State is possible if you work hard and love the process."
Music faculty who knew Prier during her undergraduate years continue to tout Prier's career as an Iowa State success story.
"Holly has developed a superb program at Emmetsburg and she challenges her students to become the very best that they can be," said Golemo. "We are immensely proud of Holly's accomplishments, and we look forward to her continued success."