Vivian Cook ('19 performing arts, French) was rehearsing the role of Ariel in ISU Theatre's "The Tempest" when director Amanda Petefish-Schrag gave her some unusual advice.
"I was struggling. I could not figure out that character," Cook said. "Amanda told me to get on the floor and kick my legs in the air. That was a ridiculous thing to do, but after that I realized, 'Oh, Ariel doesn't have to be one thing.' She can do a bunch of ridiculous things that can be playful and not serious in the way that other parts of the play were."
"Sometimes your job is to give permission to do the thing that might not work," said Petefish-Schrag, an assistant professor of theatre. "But we need to eliminate the possibility before we assume that there isn't a path forward here."
At Iowa State, Cook found the path for how she wants to practice theatre, thanks in part to mentors such as Petefish-Schrag.
Beyond the norm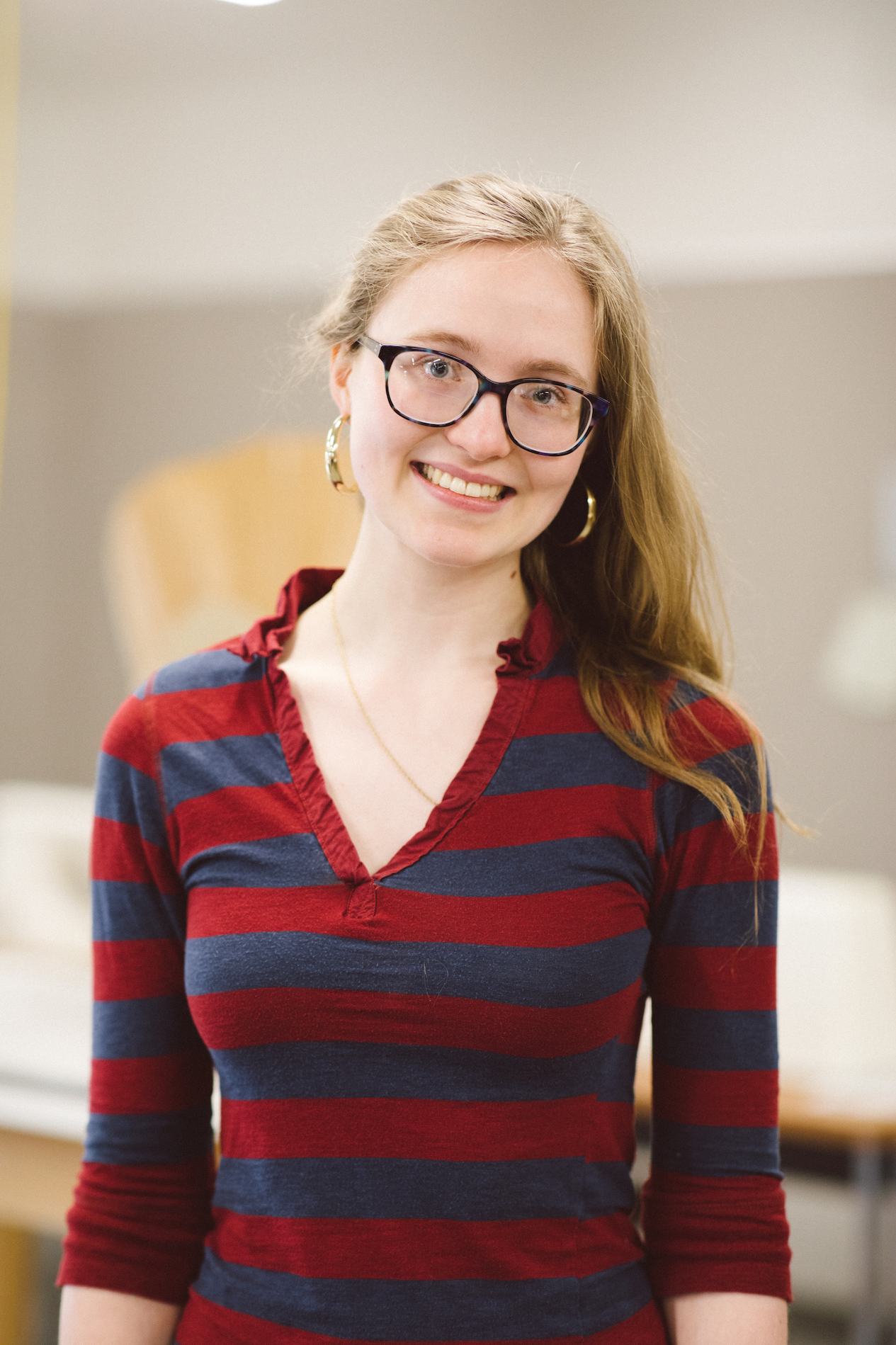 Growing up, Cook knew a great deal about theatre, but nothing about Iowa State. She moved from Arizona to Ames before her senior year of high school, when her parents joined Iowa State's English faculty. Seeing ISU Theatre shows helped her decide to stay in Ames.
"All of the professors in the Department of Music and Theatre are interested in asking questions and listening to the stories they're telling," she said.
Petefish-Schrag, an accomplished playwright and puppeteer, arrived on campus Cook's freshman year and quickly became Cook's teacher, mentor, collaborator and role model.
"In research, you're not looking for answers. You're looking for questions. That has become my driving force."
"After my first year, if you look at my production history, I think I have only done Amanda's shows," Cook said, laughing. "I chose to audition primarily for her shows because her work is very focused on how we can experiment with storytelling in a new way to go beyond what is the norm or what is expected of theatre. Amanda teaches us that, in research, you're not looking for answers, you're looking for questions. That has become my driving force."
From planner to problem-solver
Petefish-Schrag encouraged Cook to further grow as an artist by balancing her analytical side with some improv.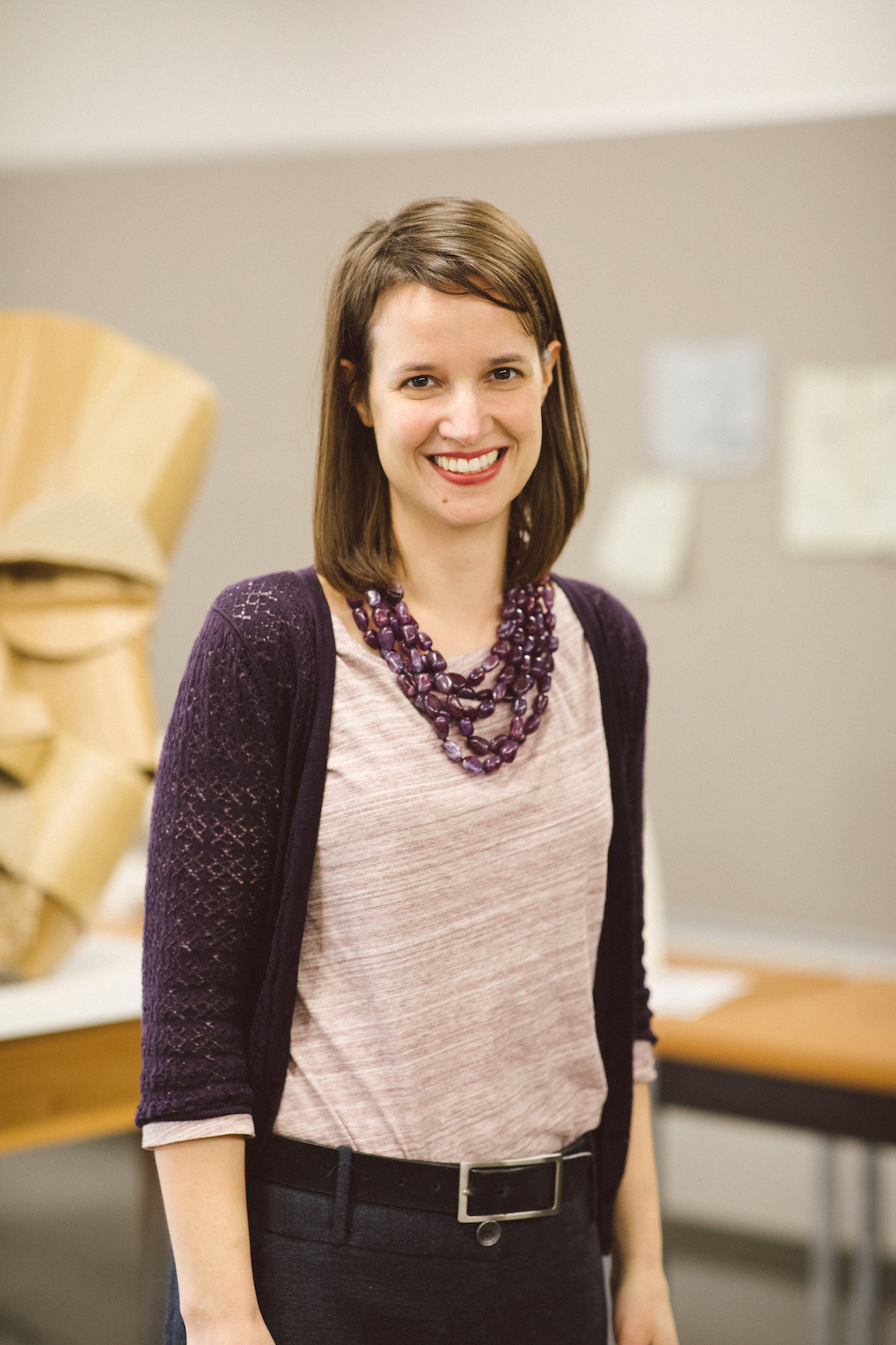 "I was terrified, but I tried out for ISU's improv team," Cook said.
A self-described planner who dislikes being unprepared, Cook said the experience helped her become a better problem-solver and leader, such as when she directs children's theatre at Story Theater Company.
"Amanda's a problem-solver," Cook said. "She is always asking the questions in the rehearsal room, in the moment, and that's what you have to do in theatre. I was suddenly more able to respond to things in the moment as a director and as an actor. When we're presented with something we haven't done before, how do we do it? What are our tactics in making it happen? Developing that mindset is one of the primary ways I have grown as an artist, student and leader at ISU."
Creating change
Cook now applies that mindset to one of her most persistent questions: How can theatre contribute to helping communities create change?
"Theatre can be used to address important issues and inspire a conversation about them, but how can performing arts effectively invite all voices into the conversation when it often costs so much to see and everyone who needs to be in the conversation maybe doesn't want to or cannot pay to come see it?" Cook asked.
During the fall of her junior year, Cook brought Climate Change Theatre Action to Ames, a worldwide series of readings and performances of short climate change plays that raise awareness of social and environmental justice issues.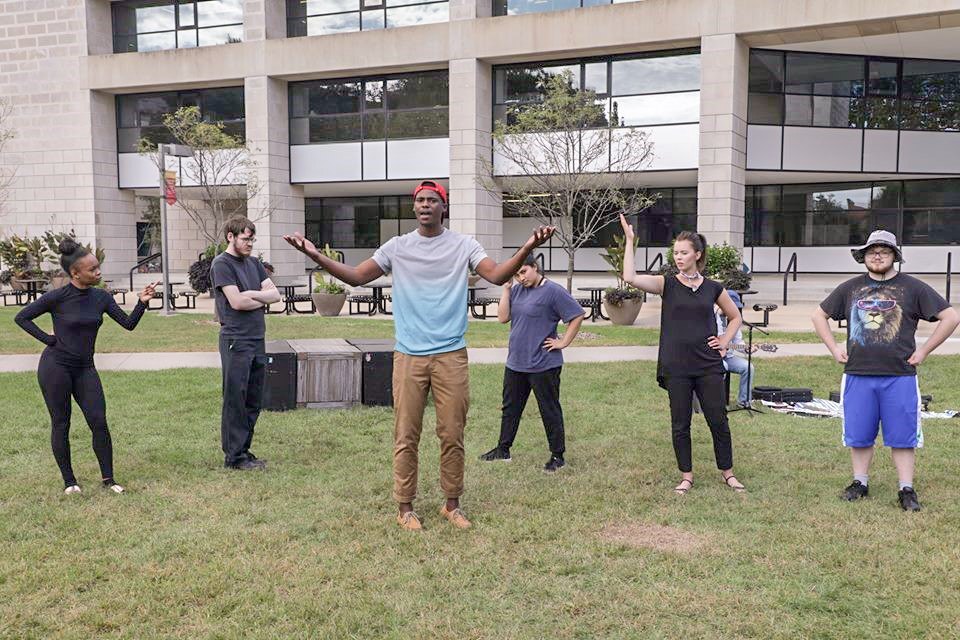 What started as her Honors project became a full-time job. She held auditions, found sponsors, created a sustainability resource fair and led a cast through 14 short performance pieces in only four weeks. Some of the students who were cast had never tried theatre before but were inspired by the topic to audition.
"It was magical to watch," Petefish-Schrag said. "As a teacher, you're always hoping to watch your students not only have great successes but also figure out things you haven't."
Cook later presented the project at the National Conference on Undergraduate Research in Oklahoma, despite feeling unsure about how to explain this kind of research to people used to seeing lab reports.
"It was magical to watch. As a teacher, you're always hoping to watch your students not only have great successes but also figure out things you haven't."
"Amanda said, 'What you did is a laboratory,'" Cook said. "We have a few constants and a whole lot of variables. You have to figure out what happens when you put all these variables—the science, the different stories communicating that science in different ways, the cast members, the audiences, the partners, the various rehearsal and performance locations, and more — together. How do we think people are going to respond, what are the possible results and how can we figure out the most effective, efficient pathways to achieving our goals? That was invaluable because now I want to do theatre in that way."
Creativity through collaboration
In spring 2018, Cook had another chance to experiment when she asked to be assistant director for Petefish-Schrag's original adaptation of "Iphigenia," a classical Greek tragedy based on the story by Euripides. Through collaboration and experimentation, the cast figured out how to function as a Greek chorus while performing with large puppet masks crafted from recycled materials.
Several "Iphigenia" cast members were new to theatre, something Cook and Petefish-Schrag saw as a strength.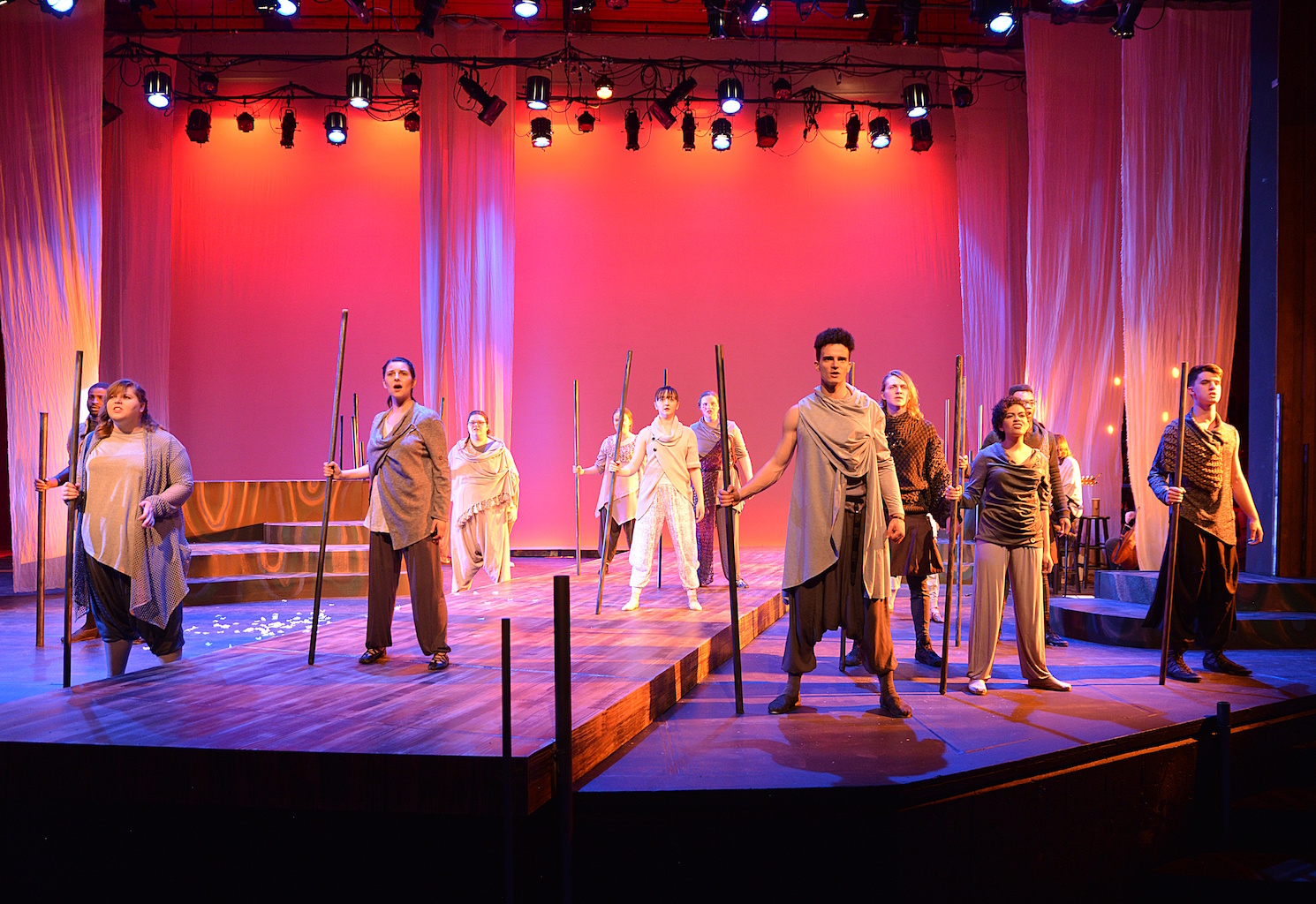 "Vivian was able to say, 'There are things we can do with a group that doesn't already have a predetermined expectation of what theatre looks like,'" Petefish-Schrag said. "They don't get thrown when I say, 'Now let's do that with three-foot tall puppets.'"
"All theatre is unproven and the opportunity to experiment is something you want students to embrace. Vivian not only embraces it, but excels at it."
The show's creative success earned an invite to perform at the Kennedy Center American College Theatre Festival's (KCACTF) Region 5 Festival in January in Sioux Falls, South Dakota. Cook was finishing a semester abroad in Quebec, Canada, when Petefish-Schrag shared the good news. With only a few weeks to prepare, they rushed to reunite cast members, some of whom already had graduated but returned to perform.
"When I think about trying to do that without Vivian, I'm filled with panic," Petefish-Schrag joked. "I love working with Vivian in part because she's really brave. I had many fond memories of moments in rehearsal where we're both scared out of our minds and don't know quite how the thing we're doing is going to work. It's wonderful when you have students who are willing to take that leap. All theatre is unproven and the opportunity to experiment is something you want students to embrace. Vivian not only embraces it, but excels at it."
Reaching out
In 2018, Cook received KCACTF's Region 5 ASPIRE Leadership Award, which required students to create and pitch a mock theatre company and season. She named her company Inquiry Theatre.
"It was based on this idea of curiosity and asking questions and how theatre can reach out to people beyond the community of theatre," she said.
"Amanda inspired me to pursue theatre for social change, take on leadership roles, initiate my own projects and to understand that the work we do can never be done in a vacuum."
Prior to graduating this spring, Cook interned with Ten Thousand Things, a Minnesota-based company that reimagines theatre by bringing free performances to places such as homeless shelters, correctional facilities, community centers and more. She will continue to study the intersection of community development, sustainability and performance in Iowa State's Sustainable Agriculture and Community and Regional Planning double degree graduate program.
"Amanda changed the way I think about theatre, Iowa State University, Ames and my role in all of these communities," Cook said. "She inspired me to pursue theatre for social change, take on leadership roles, initiate my own projects and to understand that the work we do can never be done in a vacuum. Her example has given me the courage to always prioritize collaboration and exploration — and to encourage others to do the same."