Music isn't just a part of Mason City, Iowa's culture. It is the town's culture. Its deep musical roots stretch back to the 1930s when the high school symphonic band won the National Band Contest eight times. Today, Russell Kramer, a proud Iowa State alumnus, is adding new pages to the town's sweet-sounding traditions as he composes his own music success story.
Born and raised in Mason City, Kramer ('93 music education) grew up immersed in the town's musical lore. Mason City is the boyhood home of famed composer Meredith Willson, who wrote the Tony Award-winning musical "The Music Man." The town's architecture, greenspaces and tourist attractions sing with musical influences, drawing musically minded visitors year-round. Inspired by the music that was happening all around him — Kramer picked up his first trumpet when he was just 9 years old.
"As far back as I remember, I was surrounded by the Meredith Willson mystique and the incredible history of the Mason City band and music program," Kramer said. "It's a storied program in the state of Iowa and it's just been an honor to return to my hometown and be a part of these incredible musical traditions."
Kramer recently completed his 20th year leading the Mason City High School band program — the same program in which he played trumpet when he was a teenager during the 1980s. Now, Kramer is considered one of Iowa's most well-respected and dedicated music educators.
"Russ Kramer has worked tirelessly and dutifully to continue the growth of a strong instrumental program in his hometown," said Michael Giles, teaching professor in the Department of Music and Theatre. "His statewide service has lifted the visibility of music in north-central Iowa, and I'm thrilled that he considers his time at Iowa State an important part of his journey."
Cardinal and golden years
Kramer says his undergraduate years at Iowa State, and his mentors in the Department of Music and Theatre, profoundly shaped his teaching philosophy and transformed his career path.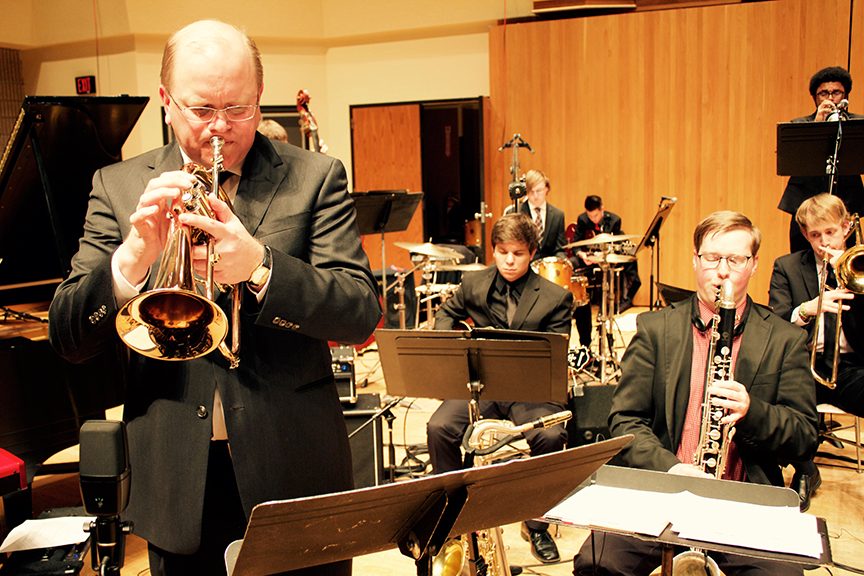 "I wouldn't trade my experiences at Iowa State for anything, and I was just so fortunate to learn from my great professors and classmates," Kramer said. "It's not an exaggeration to say that my time at Iowa State altered my future."
Before arriving on campus, Kramer mapped out a very precise academic and career plan. He would earn a degree in architecture and make his living designing homes. Although he joined the Iowa State University Cyclone Football 'Varsity' Marching Band, as well as the pep band and jazz band, mechanical drawing classes and design homework took precedence. Playing the trumpet and music were sidelined as extracurricular activities.
But something wasn't sitting right.
As the architecture classes grew tedious and music seemed to tug at his heartstrings, Kramer sought the advice of Joe Christensen, then the director of bands and a larger-than-life role model and mentor to Kramer. Christensen passed away in 1998.
"I think about Joe almost daily, and I cannot overstate the importance that he had in my life and in getting me to where I am today," Kramer said. "He was the reason I stayed at Iowa State, worked through these tough decisions and was able to finally realize that music education and teaching students were my personal calling."
"It's not an exaggeration to say that my time at Iowa State altered my future."
Kramer was moved as he witnessed Christensen treating students with kindness and compassion. He learned, through example, that empowering and valuing students is just as important as perfecting instrumental techniques and mastering complicated compositions.
"Joe Christensen became the person and the teacher that I wanted to be," Kramer said. "My experiences on campus helped me to become who I am, and I have nothing but fond memories of Iowa State."
After graduating from Iowa State, Kramer earned a master's degree in conducting at the University of Iowa. He spent several years directing high school bands in Humboldt and Boone, before returning to his hometown and accepting the director of bands position in Mason City.
Leader of the band
As director of bands, Kramer directs the Mason City High School symphonic band, marching band and a jazz band. He also oversees the instrumental music department. Well known for fostering a welcoming, fun atmosphere within each band, Kramer encourages students to forge friendships and mull over the nuggets of wisdom that he imparts during rehearsals.
He also challenges students with a variety of music, from complex Russian Christmas songs, to classical pieces from Mozart and Bach. The marching band has performed well-known pop music from Earth, Wind and Fire and British rock band Queen. Timeless orchestral pieces, such as Gioachino Rossini's "The Barber of Seville," and Mozart's "The Abduction from the Seraglio," are popular with students and audiences.
"We also commission new works by living composers, such as Andrew Boysen Jr. and Timothy Mahr," Kramer said. "It's all about playing music from different eras and all different styles, so students become consumers of music after they graduate and leave us."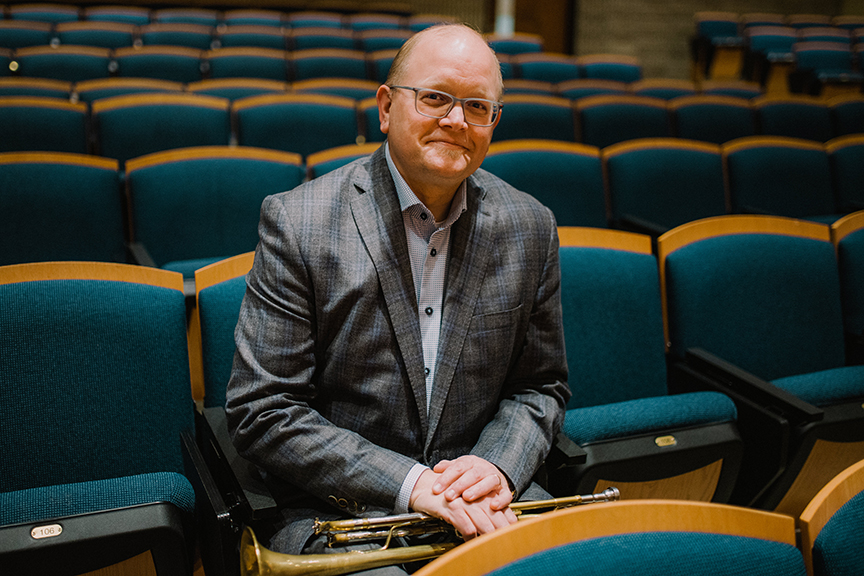 Kramer is only the sixth band director in the program's 95-year history. Mason City band directors tend to stick around for decades. Director Gilbert Lettow, who was Kramer's cherished band director, retired in 2002 and handed off the conducting baton to Kramer. That bittersweet nostalgia is never too far from Kramer's mind.
"It was quite an experience to replace a well-loved teacher, and I still don't believe that I will ever quite measure up to my five predecessors who were so inspirational to me and to many generations of Iowa band directors," Kramer said. "I consider myself blessed every day to teach Mason City students about music, character and life."
Likewise, Kramer's students and former students sing his praises. They consider it an honor to learn from a talented musician and educator, who has become an important part of Mason City's musical narrative.
An ISU student reflects
Sam Swegle ('25 finance), a former percussionist in Kramer's symphonic, pep and marching bands, began his freshman year at Iowa State last fall. He joined the ISU Symphonic Band, hoping to rekindle the camaraderie and positive energy that he experienced in the Mason City High School band.
"If it wasn't for the amazing environment that Russ created and all of the musical experiences I had in high school, I probably wouldn't have continued band in college," Swegle said. "He was a great leader who taught me about good character, and he helped me to discover a love for instrumental music."
Swegle plays percussion in the ISU Symphonic Band. A bit of that Mason City band magic was reignited this year when he learned that the band would perform "Mother Earth" and "Yosemite Autumn" — two of his favorite pieces from high school.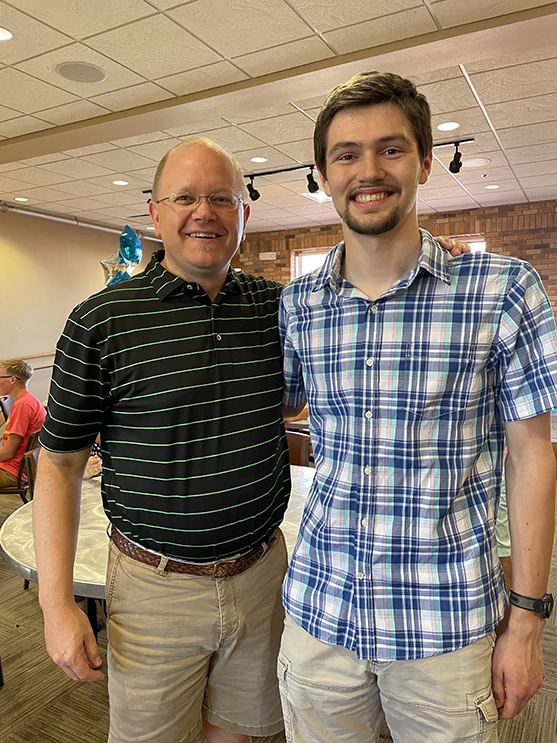 "I was filled with joy when those pieces were handed out and it brought back a lot of nostalgia from when I played them in high school," Swegle said. "I have such fond memories of being in band and learning so much from Russ, so it's really special to experience that music again at Iowa State."
Kramer notes that he is proud of Swegle's accomplishments. His dream is that each of his students, like Swegle, will carry forward a love of music and an appreciation for friendships and caring about others.
"One of my mentors said, 'We don't teach music, we teach kids,' and that is the core tenant of my teaching philosophy," Kramer said.
Strong music leadership
Kramer's contributions to music education extend beyond Mason City. He's devoted hours of service to important leadership roles that have benefitted countless Iowa students and band educators.
Kramer was elected president of the Iowa Bandmaster's Association by the organization's 900 band directors and educators. He recently began a 3-year term as chair of the Iowa All-State Band Festival, an ambitious undertaking. More than 1,000 top-performing Iowa band students participate in this annual event, which is aired on Iowa Public Broadcasting Service.
"These are terrific opportunities for me to serve, give back to my profession and ensure that our talented band students have the best possible experiences in the state of Iowa," Kramer said.
When he's not organizing behind the scenes, Kramer is front and center conducting, not only the high school band, but also the Mason City Municipal Band. Many city band members are Kramer's former students and children of former students. A valued member of Mason City's Performing Arts Pavilion Committee, Kramer helped to lead a successful $1.65 million fund-raising effort for the new Principal Pavilion performing arts center in downtown Mason City.
Making his own music
Amid the rush of fundraising, conducting and statewide organizing — and everything that happens between early-morning band practices and evening concerts — Kramer insists on setting aside time to perform music. It brings him great joy to add a few tunes of his own to Mason City's ongoing musical scene. For nearly 44 years, Kramer has played the trumpet, the instrument he first learned as an elementary school student in Mason City.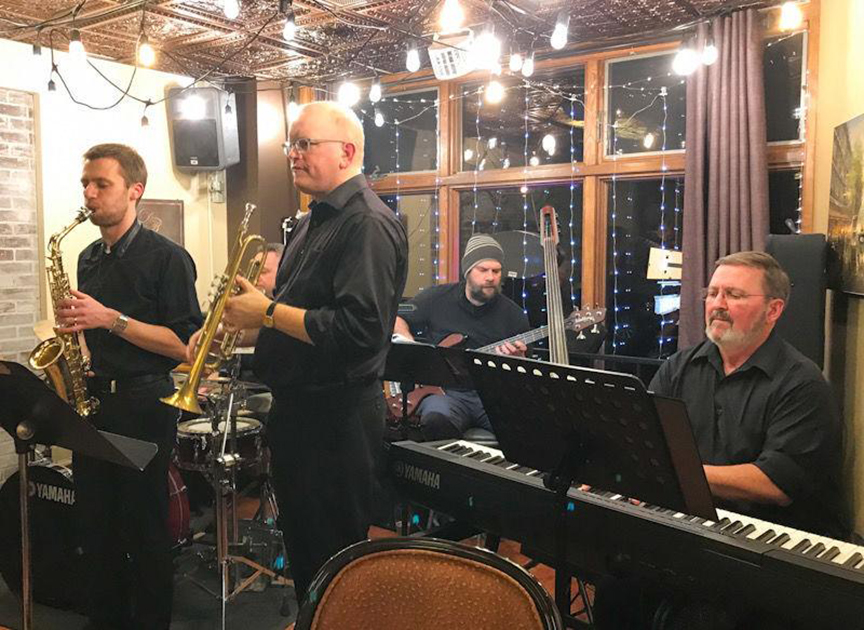 "There's just nothing better," Kramer said. "I get to perform, do what I love and be creative in a musical way, and it's also fun for people to come out and hear some great music."
Kramer is the founder and leader of the Jazz Coalition Big Band, a 16-member ensemble that performs for local residents and tourists in cozy Mason City restaurants and wine bars. He recently started Five Spot, a jazz quintet that plays throughout north-central Iowa.
"I am extremely grateful to have experienced so many wonderful opportunities in Mason City that I would never have experienced if I hadn't returned," Kramer said. "It's incredible to be a part of the Mason City community that has literally been defined by music for so many years, and I'm honored to be a part of it."