From Taiwan to Washington, D.C., Department of Music and Theatre students and faculty traveled the world last year. Enjoy a few of their travel stories!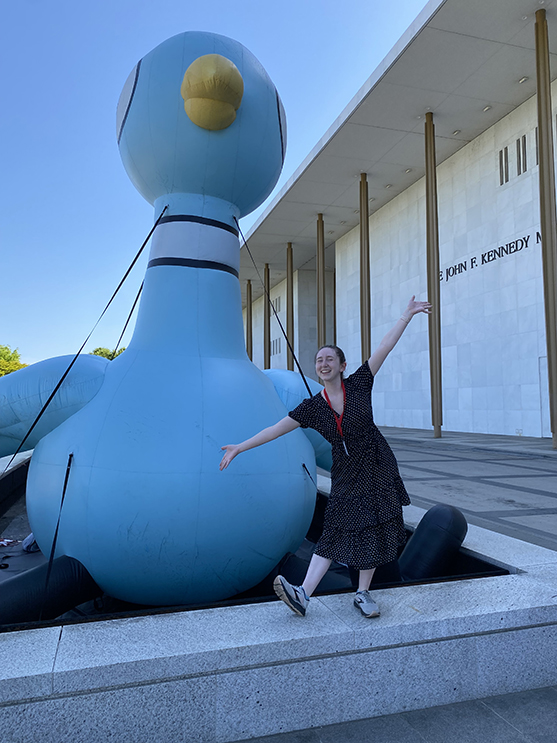 Posing with the pigeon
Emily Oldham ('23 industrial engineering, performing arts) has an impressive new line on her resume – Kennedy Center honoree. Oldham received top honors in stage management at the Region 5 Kennedy Center American College Theatre Festival and traveled to the National Festival in Washington, D.C., this spring.
"It felt surreal!" she said. "I had approached the regional festival as a chance to get feedback on my work and to learn more about the profession, so receiving the top regional honor in my discipline was a total surprise."
At the national festival, Oldham networked with peers and industry professionals, visited the famed Ford's Theatre and its staff, and ate lunch with the stage manager of "Don't Let the Pigeon Drive the Bus! (The Musical!)."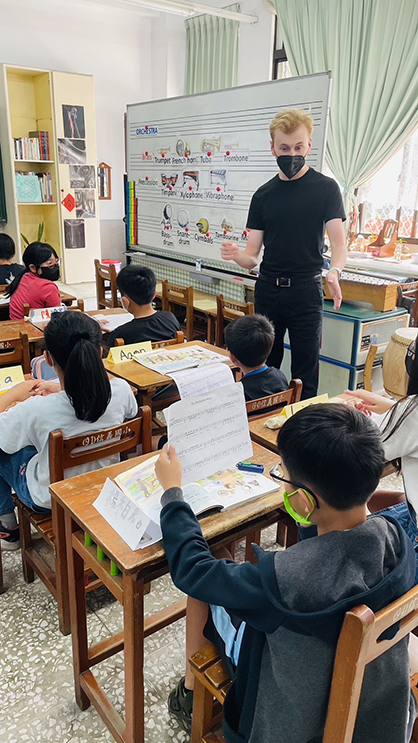 Teaching in Taiwan
Caleb Burken ('23 music education) always wanted to study abroad and experience a new culture. This spring, he got his chance with an eight-week student-teaching assignment in Taiwan.
Burken said the experience helped him grow as an educator and a person. His Taiwanese students spoke Mandarin Chinese as their first language, which challenged Burken to communicate well when explaining musical concepts and giving instructions. While in Taiwan, he also visited the capital city of Taipei and famous landmarks in Kaohsiung, such as Monkey Mountain and Lotus Pond.
"These trips showed me a lot about the culture of my students," he said. "The students primarily worked out of a music textbook that incorporates many different facets of Taiwanese culture, so many of the classes that I observed, participated in, and taught had references to the history and culture of the places I visited."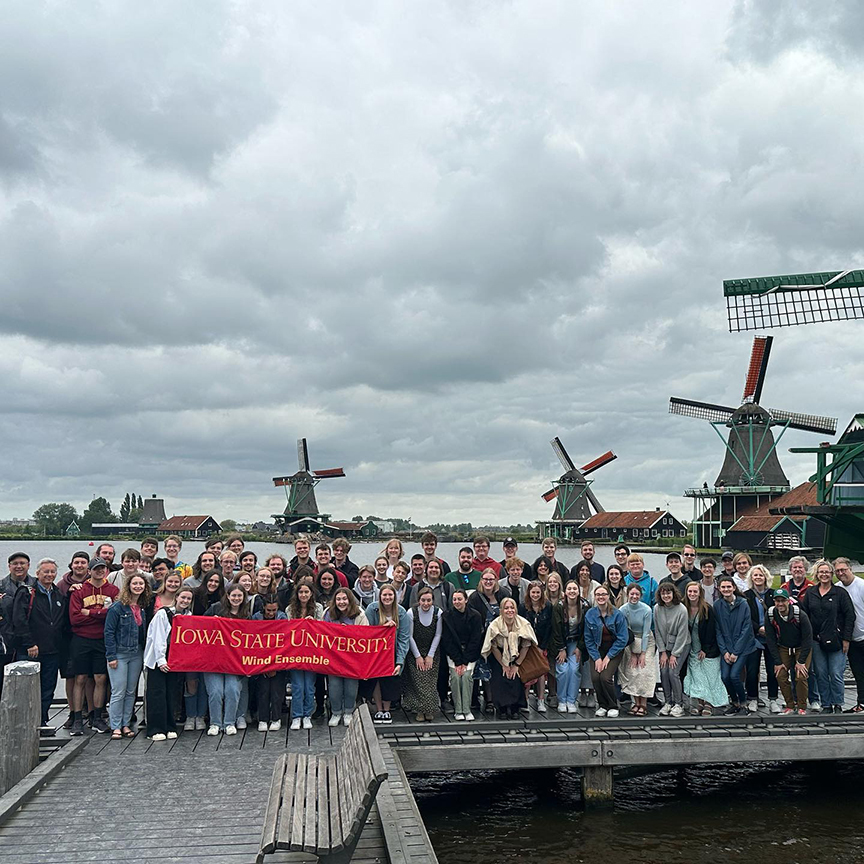 ISU Wind Ensemble tours Europe
In May, 72 Cyclones traveled abroad for ISU Wind Ensemble's 12-day tour of Western Europe. Led by University Professor and Director of Bands Michael Golemo, the band performed concerts in London, Paris, and Amsterdam. 
Their Amsterdam concert had a special partner in Ruud Pletting, a good friend Golemo met on a previous band trip in 2013. Iowa State performed with Pletting's St. Cecilia Heemskerk Fanfare Band at De Duif (The Dove), a 19th-century Amsterdam church.
Iowa State students also toured London, Canterbury, and Paris; cruised the canals of Amsterdam and Ghent; and enjoyed a day at a traditional Dutch countryside village to visit a clog maker, cheese farm, and Dutch windmill. They also stopped in Ypres, Belgium, to lay a wreath and play "Taps" at Flanders Field American Cemetery.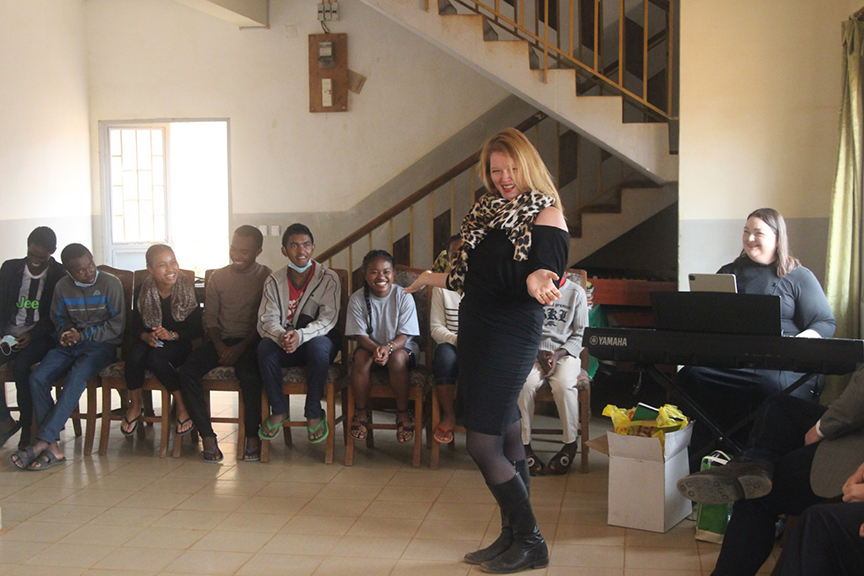 Musical exchange in Madagascar
Last summer, Jodi Goble, teaching professor of music, spent four weeks in the Republic of Madagascar. Goble served as the pianist for a concert and outreach tour through the Minneapolis-based company, Really Spicy Opera (RSO). 
Focused on cultural and musical exchange with Madagascar's many flourishing arts organizations, the trip included collaborations with three professional choirs – Chœur Miangaly, Akon'ny Lanitra Ivandry, and iCanto – and a joint concert for iCanto's 10th-anniversary gala.RSO also participated in school outreach, lectures and performances, and a recording and workshop event for its virtual composer-librettist training program.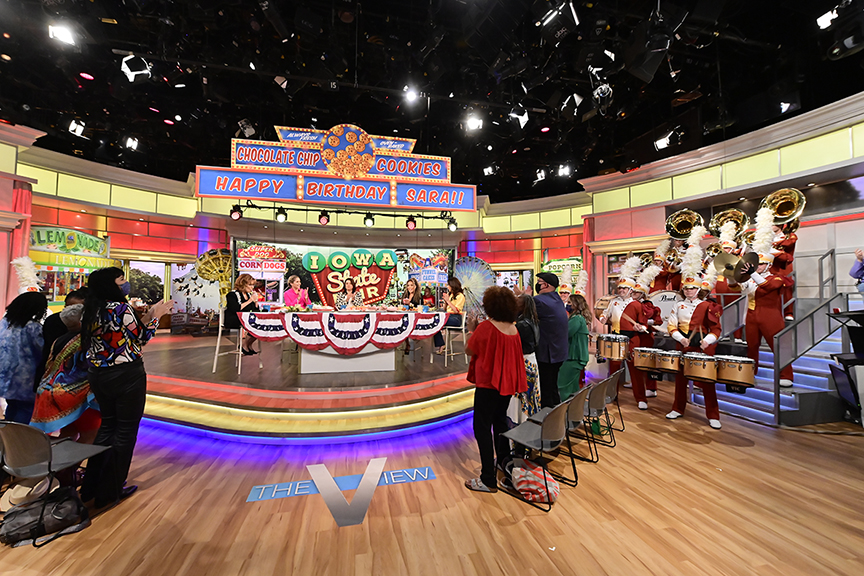 Surprise spotlight on 'The View'
Thirty members of the Cyclone marching band enjoyed an 11th-hour trip to New York City last fall at the invitation of ABC Television's "The View" talk show. Co-hosts wanted to surprise their colleague and Newton native Sara Haines with an Iowa-themed birthday celebration at the end of the Sept. 16 show. The phone call came to Simon Estes Music Hall Monday morning, Sept. 12: Could the Iowa State band fly in to help with the task?
"We responded with enthusiasm to this opportunity and arranged the entire trip in about 24 hours," said Brad Dell, chair of the music and theatre department. "It was a thrilling adventure."
Associate Director of Bands Christian Carichner selected section captains and other top musicians for a small but mighty representation of the full band. They represented about 8% of the marching band. Reprinted from Inside Iowa State.
Even more travels
Iowa State Singers traveled and performed in Estonia, Latvia, and Lithuania.
Iowa State Singers performed at Carnegie Hall and Cathedral of St. John the Divine on a trip to New York City and Washington, D.C.
Iowa State Singers sang in a combined choir concert in Des Moines.
ISU Wind Ensemble performed at Ankeny High School in Ankeny, Iowa.
ISU Marching Band played at the University of Kansas during the Iowa State vs. Kansas football game.
ISU Marching Band played an exhibition at Gilbert High School in Gilbert, Iowa.
ISU Theatre participated in the Kennedy Center American College Theatre Festival (KCACTF) in Des Moines.
The Statesmen performed for the community in Iowa Falls, Iowa.
JazzOne performed as the featured band at the Iowa Jazz Band Championships in Stephens Auditorium.
Tiffany Antone, assistant teaching professor of theatre, and Cason Murphy, assistant professor of theatre, participated in theatre conferences in Minneapolis.
Brad Dell, department chair, traveled to Las Vegas and Washington, D.C., for KCACTF.
Abby Freymuth ('23 music) student taught in New Zealand.
Christopher Hopkins, professor of music, composed new music in New Hampshire, supported by a MacDowell Fellowship.
Lydia Lee ('24 music) was a visiting student at the Oxford University.
Chad Sonka, assistant teaching professor, taught at the Sherill Milnes VOICExperience in Savannah, Georgia.
Tin-Shi Tam, University Professor and Charles T. & Ivadelle Cobb Cownie Professor of Music (university carillonneur) took the model carillon on the road to Chicago and other stops.
George Work, professor of music, performed in Brazil.